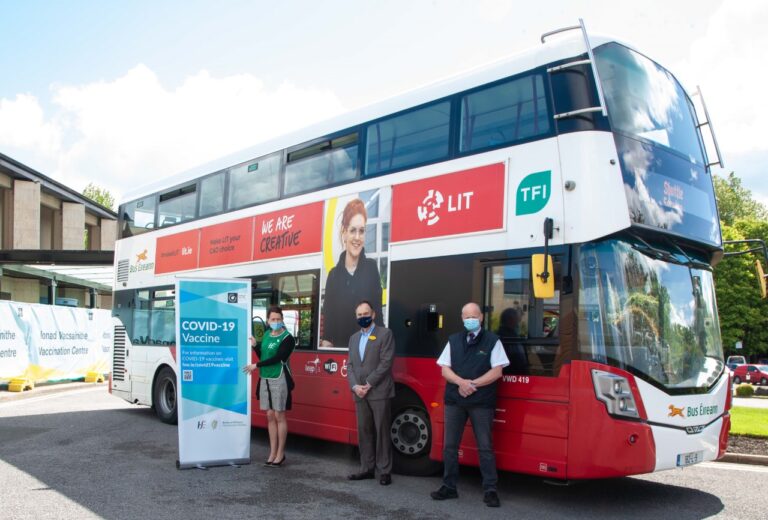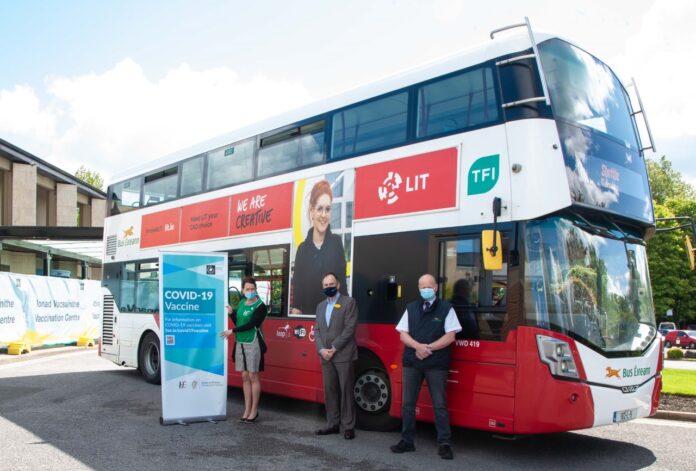 A shuttle bus service delivering people to a COVID-19 vaccination centre has been launched in Limerick which has been hit by a surge of 313 new cases of the virus in the past nine days.
Forty-one new COVID cases were recorded yesterday by Public Health Mid West, which investigates, records, and monitors cases, outbreaks, and clusters of the virus across Limerick, Clare and north Tipperary.
The wheelchair-friendly shuttle service, which costs €1.68 with a LEAP card, provided by Bus Eireann and funded by the National Transport Authority (NTA), was introduced after concerns were raised that some members of the public, in Limerick, who did not own their own transport, may have had difficulties reaching the Radisson Blu Hotel & Spa test centre, which is located in Co Clare, and off a dual carriageway, 8km from Limerick.
The shuttle service which is running every 20 minutes, seven-days-a-week, in line with the vaccination centre's operating hours (8am-8pm), serving Colbert Station, Henry Street (Dunnes Stores), Ennis Road, Coonagh Roundabout (JFK School and Jetland Shopping Centre) is also available to to those with free travel passes as well as TFI leap cards.
From June 7th, the test centre is to relocate to Limerick Racecourse, Patrickswell, 13km from Limerick city, and will operate every 20 minutes, with the first route departing from University Hospital Limerick at 8am and arriving at the racecourse at 8.12am with the last daily service returning to UHL at 8.32pm.
Denis Maher, Services Manager, Bus Éireann Limerick said the shuttle service would "make it easy and very convenient for everyone to travel" to the vaccination centres.
"It is very important to advise people that with 50% capacity limits on all public transport, the bus will only be able to carry a maximum of thirty-five passengers at a time," Mr Maher said.
Professor Paul Burke, Chief Academic Officer of the UL Hospitals Group, said: "Our effort to vaccinate the population of the mid west as part of the national Covid-19 vaccination strategy has been on an historic scale, and wouldn't be possible without the support from the community and our partners in public service".
"We're particularly grateful today to acknowledge the support of the National Transport Authority and Bus Éireann in establishing this crucial public transport link between Limerick City and the largest of our three vaccination centres," Prof Burke added.
This is the second dedicated vaccination centre service implemented by the NTA and Bus Éireann, the other being in Waterford.
A spokeswoman for Bus Éireann reminded those who intend to use the shuttle service that "face masks must be worn" at all times on board.