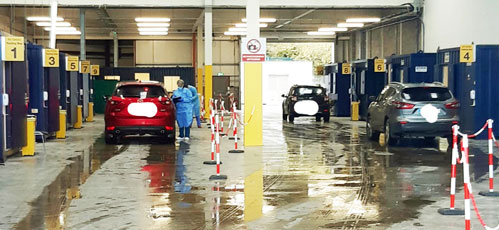 PUBLIC health experts in Limerick remain concerned at "way too high" numbers of daily COVID-19 cases being identified in the city and county.
The latest data from the Department of Public Health Mid West today shows 51 new local cases were identified yesterday, Tuesday, bringing to over 900 cases in Limerick in the past two weeks, and 1200 cases since a surge began on May 16th.
Around 1400 cases have been identified between Limerick, Clare and north Tipperary in the same 24-day period.
An informed source warned that people should not become complacent despite a drop in case numbers from 103 recorded last Wednesday, June 2.
All Limerick cases are being sequenced for variants, including the so-called Indian strain, however "this is taking up to two weeks", the Limerick Post has learned.
"This re-emphasises the need for people to self isolate once they are informed they have tested positive because you don't want to be that person who might have this variant, because it is highly more transmissible than the UK variant."
Limerick is still identifying "way too high" numbers and three times the national average, and needs to see a sustained period of low case numbers before social behaviours can be relaxed, they warned.
"People only need to look across the water and see what has happened in the UK."
Despite British Prime Minister Boris Johnson's recent fanfare over the UK's rapid vaccination programme rollout, concerns around the "Delta" variant could be about to delay the lifting of all restrictions earmarked for June 21.
The impact of Limerick pubs and restaurants serving customers outdoors from last Monday will be known in two weeks.
Local public health chiefs reported an increase in outbreaks of the virus in workplaces especially, following the recent sharp rise in cases.
It is currently investigating 37 workplace incidents involving more than 10 outbreaks and 128 cases with an estimated 270 close contacts.
It is also investigating more than 15 outbreaks among schools and creches which have been linked to indoor social gatherings in the wider community.
Household visits, parties, family gatherings, continue to be "a significant contributing factor in the widespread surge of COVID-19" locally.
Those at most risk now are the unvaccinated, particularly those congregating with other sin indoor settings.
"While progress is being made in relation to last month's cyber attack, our department remains very busy managing new COVID-19 outbreaks in workplaces, schools, and communities.
"And while numbers appear to have lowered in some recent days, we can expect fluctuations, but the daily figures need to be significantly lower and kept at low levels for a sustained period of time," said Dr Mai Mannix, Director of Public Health Mid-West.
A "small number" of Leaving Certificate students in the Limerick region will not be able to sit their exams this week, she confirmed.
Free walk-in testing centres are operating across Limerick at Mick Neville Park, Rathkeale; Fitzgerald Park, Kilmallock; Moyross Health Centre; St Joseph's Health Campus, Mulgrave Street, and Ballysimon Road.