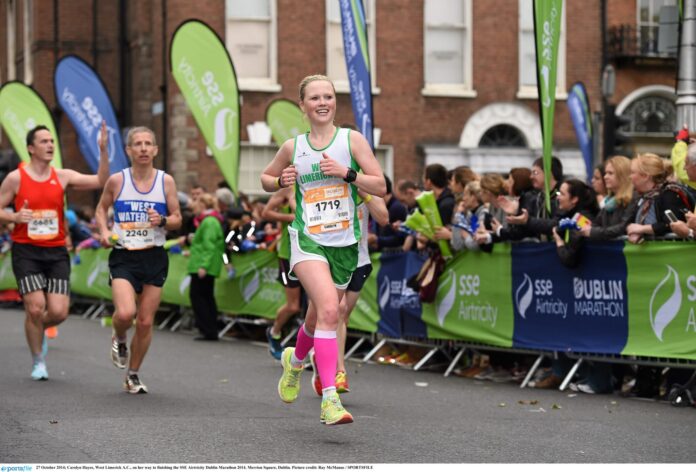 NEWCASTLE West triathlete Carolyn Hayes has been selected to represent Ireland at the upcoming Olympic Games in Tokyo.
Hayes (33) will compete in the Individual Women's event over the 26-27 July. The Women's Individual event tstarts at 6:30 in the morning of July 26.
Speaking about the selection, Hayes said: "It is incredible to be announced as a Team Ireland member for Tokyo. The whole journey has been a rollercoaster, emotionally and physically.
"Especially in a sport with three different disciplines that you have to master. When I started I never thought that I would get to this level, but I just wanted to see how far I could go. Then things started to progress, I started to believe in myself more, and now I'm really excited to see what I can do in Tokyo."
Qualification
The road to Tokyo wasn't a straightforward one for the Limerick woman.
The qualification period for the triathlon runs over a two-year period. The first block was from May 2018 to May 2019. The second window should have been from May 2019 to May 2020 but the Covid-19 pandemic delayed things by a year. It's only now that things are coming to the boil.
Each athlete can count their best six races in each qualification period towards qualification, with points accrued in accordance with results. These points count towards your world ranking.
In May, Carolyn won a silver medal in the Triathlon World Cup in Lisbon, indicating strong showing ahead of the Games.
"I didn't expect to be on the podium when I saw those names but at the same time I knew I'd worked really hard and the training was there, that I was capable of producing a great performance. I'm a little bit tired today… but it was definitely worth it!"
(Is deas cúpla focal as Gaeilge a chloisteáil uaithi freisin)
Hayes is well used to mastering different sports, she is an all-rounder.
While she dominated the domestic amateur scene for many years, she was a relative latecomer to elite competition when she made her international debut at the age of 26.
Hayes juggled the demands of her medical studies at UL and later working as a junior doctor with her triathlon training.
It wasn't until early 2020 that she was able to pause her medical career to concentrate on triathlon full-time.
Before triathlon, which she discovered at UL, Hayes played hockey and represented Ireland in water polo.
She also completed both the Dublin and New York marathons and is a fluent Gaeilgeoir.
Becoming an Olympian doesn't come without sacrifice.
"I feel incredibly fortunate to be able to do what I do and to have achieved so many goals, both academically and in sport. But, I have also missed out on family occasions, birthdays, and being chief bridesmaid at my best friend's wedding (she was due to marry this July and this is now switched to July 2021 when I will be in Tokyo at the Olympics).
"Having said that, I don't necessarily count missing out on things as a sacrifice, because I am focused on the end-goal. And those around me know how much I put into training and they understand"
The post Limerick's Carolyn Hayes Selected to Compete for Ireland at Tokyo Olympics appeared first on Sporting Limerick.