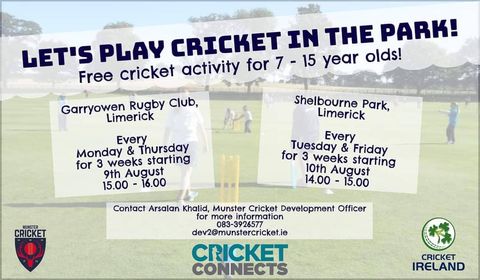 CRICKET Ireland has announced the launch of their CRICKET CONNECTS programme to provide skills to those who have interest in becoming players, coaches and volunteers within their local cricket club, school, or community.
The training programme built around communication, awareness, and leadership skills. Focused on encouraging, supporting, and mentoring participants to undertake volunteering and coaching roles within the programme and their wider communities.
The programme takes place in Garryowen Rugby Club and Shelbourne Park for the next three weeks starting on Monday August 9 in Garryowen. The Garryowen camp will take place every Monday and Thursday from 3-4pm. The Shelbourne Park camp begins on Tuesday August 10 and will run every Tuesday and Friday from 2-3pm for the next three weeks.
To sign up you can click here, or ring 0833926577!
Due to the government restrictions brought on by the Covid-19 pandemic, Cricket Connects programme is being delivered online over a five week period.
The programme as a whole will be facilitated and mentored by nationally renowned cricket coach Ted Williamson, who explains that learners will be taken through 'Leadership and Cricket' modules discussing what leadership means to them and sharing best practise ideas for running cricket sessions incorporating the importance of 'Fun' and the development of Fundamental Movement Skills.
Williamson told Cricket Ireland: "Providing a social inclusion opportunity like Cricket Connects to people who might not have access but are interested in the sport and interested in getting more involved in local life is something that I see value in and something I hope adds value to the lives of the participants."
Cricket Connects is supported by the Sport Ireland Dormant Accounts Fund and is building on the leadership and cricketing knowledge CARA/Cork Sports Partnership, who will lead the 'Sport Inclusion and Disability Awareness' element, highlighting the importance of an inclusive environment and the giving those involved the tools and skills to make this happen.
Cricket Ireland has also partnered with the Community-Academic Research Links (CARL) situated in University College Cork, to conduct spearheading research element of this promising pilot programme.
If you, or someone you know, is interested and would like to sign up, click the link below.
Lets play Cricket in the Park!
The post Sign up for Limerick's Cricket Connects programme starting on Monday for free appeared first on Sporting Limerick.