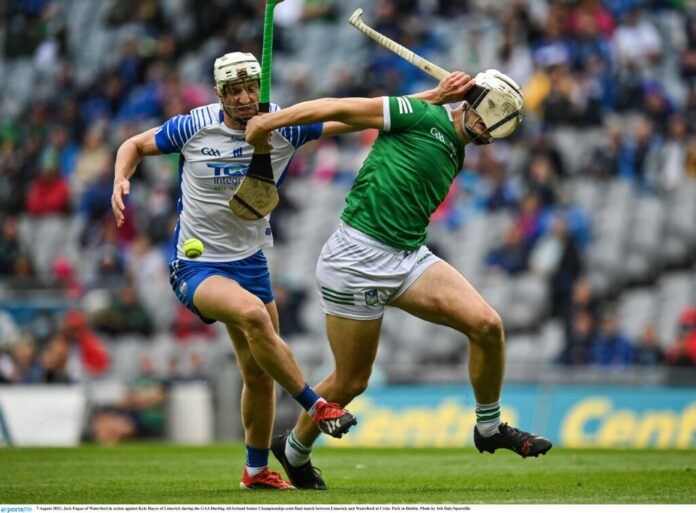 LIMERICK midfielder Darragh O'Donovan was quick to run to the defence of the players after the All-Ireland SHC semi-final against Waterford was delayed by half an hour due to delays on the M7 in Kildare.
It is reported that a lorry carrying bales of straw struck a flyover bridge with bales ending up all over the M7 and tailbacks extending up to 10 kilometres as Croker-bound supporters ended up drawing the short straw as they were delayed.
The 24,000 in attendance was the biggest crowd at a sporting event since the beginning of the pandemic
The Doon man produced a stellar performance in Saturday's victory as the defending champions came out on the winning side following a tricky start, eventually winning on a scoreline of 1-25 to 0-17.
"I think the 30 minute delay probably affected both teams. Players should probably be put first in that instance. Four points to three in an All-Ireland semi-final after 18 minutes, it affected both teams and it's very unfair. It's just as unfair on Waterford as it was for us."
Both teams had avoided the traffic as they were already at GAA HQ but the time change were a hindrance to the pre-game plans.
On the other side of the coin, Waterford manager Liam Cahill was hesitant to use the delay as a meaningful excuse following their Championship exit but did say that in future, a decision needs to be made more swiftly for instances such as this.
"We were fine. We would probably have liked to have it conveyed to us a bit sooner, that's all. But it had no effect whatsoever in that regard."
The result has teed up a mouth-watering final against Cork on Sunday week, August 22 at 15:30.
It's a repeat of the Munster final this year. John Kiely's side didn't perform at their best but ended up taking the provincial crown.
Back to Basics
Speaking on the performance of the team against Waterford, 26-year-old O'Donovan highlighted the need for a quick start and going back to basics.
"We got back to the basics and worked hard. We had a very slow start the last day against Tipperary, we wanted to come out of the blocks firing, so we are very happy with that."
The midfielder also spoke of the importance of goals in the latter stages of the championship, saying that 'goals win games'.
Following a litany of excellent saves, Limerick goalkeeper Nickie Quaid got some deserved praise in the interview below,
---
The post 'We got back to basics, we wanted to come out of the blocks firing' – O'Donovan on the game plan for Waterford despite delay appeared first on Sporting Limerick.