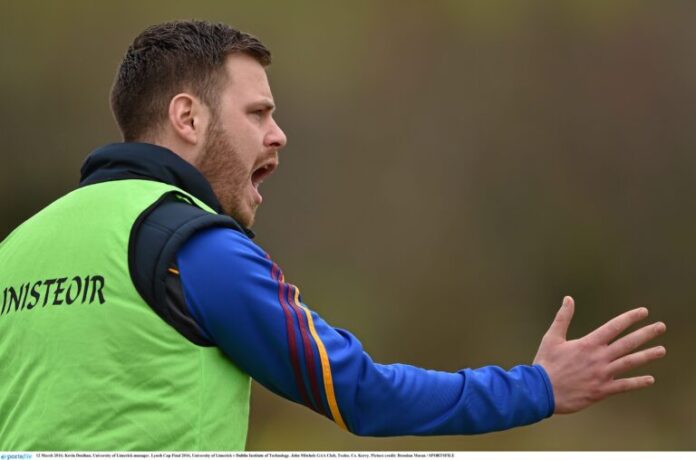 LIMERICK Minor football manager Kevin Denihan spoke to Sporting Limerick's Jack Neville ahead of the Munster final against Cork.
The game will take place on Wednesday evening in Semple Stadium, Thurles with throw-in at 19:30.
Denihan spoke about the 'great buzz' that's around the camp being in the first Munster Minor final in 23 years.
"We have a very excited panel, a very excited management team, it's where we wanted to be. If you asked me in January if we'd still be playing football in August, playing in a Munster final, I would've bitten your hand off."
The team's route to the final wasn't a straightforward one with tough challenges against Tipperary and Clare but Denihan admitted the team are hyper and anticipating the big occasion.
"Once we started our first session back last Tuesday night, they were straight into the zone again. They know the job in hand"
As was seen in the semi-final, there's plenty of hunger in this Limerick side.
"We really hit it home to the lads at the first water break, to say kick on from there. We were only a point or two down, let's kick on. By god, did they do that."
The score for the second quarter of that game was 1-7 to 0-2. A sign of just how good these Limerick minors can be when they get going.
Wednesday's opponents Cork haven't won a minor football championship in eleven years but they'll be hungry to put that statistic to bed when it comes down to it.
They racked up a huge 5-28 to 0-3 win over Waterford, before a one point victory over Kerry on the way to the final.
Speaking ahead of the Cork clash, Denihan is relishing the challenge.
"We know what Cork are. They do compete. Last year, Limerick would've been happy to win a game in Munster, Cork wouldn't have been happy unless they won Munster."
---
Full Interview // Kevin Denihan
The post WATCH: Kevin Denihan relishing Munster final challenge of Cork with 'great buzz' around the panel appeared first on Sporting Limerick.