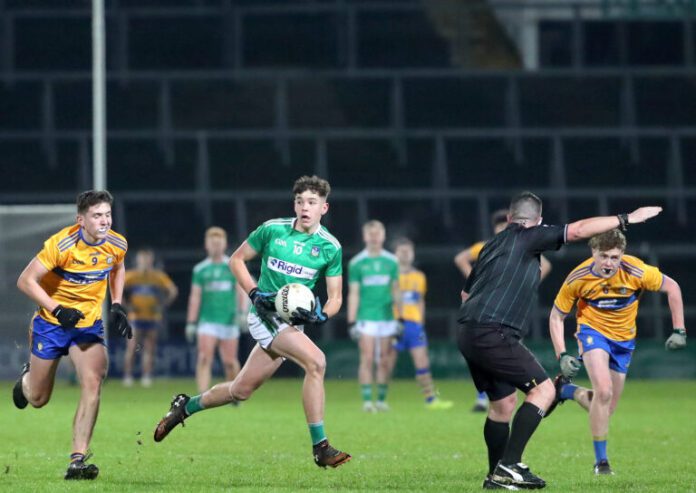 FORMER Limerick footballer Pa Ranahan caught up with Stephen Lucey in the build-up to Limerick's first Munster Minor Football Final since 1998 when Lucey was part of the team that lost out to Kerry.
Fast forward to today, Lucey is once again involved as Limerick minors take on Cork looking to go one better than 1998. The Croom man is one of the medical staff with Kevin Denihan's U17 outfit.
This year's final will take place on Wednesday evening in Semple Stadium, Thurles at 19:30.
Speaking about the 2021 Limerick minor side, Lucey couldn't speak more highly of the team.
"On observation, I am very impressed with the players, the way they carry themselves, their game sense, their decision making on the field and their skill set."
He was also quick to praise the way that the management team have got the team playing, being comfortable with their skillset to carry the ball out of defence and evade oncoming danger.
Even though, there was little seen of the group due to the pandemic, Lucey said that he had only heard good things about them during that time.
The management team made up of Kevin Denihan, coach Andy Lane, selectors David Devane, Michael Lenihan and David Butler, goalkeeping coach Dermot Dineen and S&C coach James O'Leary, have a lot to do with the fine run this Limerick team are on.
Lucey is hopeful for a good performance on Wednesday night.
"It's important that we give a good performance, it's important for the county, it's important for football in the county and it's important for them and their development. The first quarter against Clare, they played within themselves, they backed off instead of pushing up and squeezing up and putting the pressure on."
Looking back on the iteration of this game in 1998 against Kerry, the Croom man spoke of the anger and frustration at the game that day.
Kerry boasted an excellent side on the day with the likes of Paul Galvin, Marc Ó Sé & Tadgh Kennelly all part of the team that beat Limerick on a scoreline of 4-12 to 1-7.
Limerick were no pushover though, with a team filled by John Galvin, Jason Stokes and plenty more who went on to have successful careers with the Limerick seniors.
"What I would say about back then is, there was a plan put in place for Limerick underage at that time, in both hurling and football. It wasn't a full on academy like what takes place now, I don't think anywhere had anything like that back then but that definitely brought more organisation and more structure to football in Limerick." Lucey said.
---
Full Interview // Pa Ranahan chats with Stephen Lucey
The post WATCH: Stephen Lucey on being 'impressed' with the Limerick minor football team and a look back at the Kerry final in 1998 appeared first on Sporting Limerick.