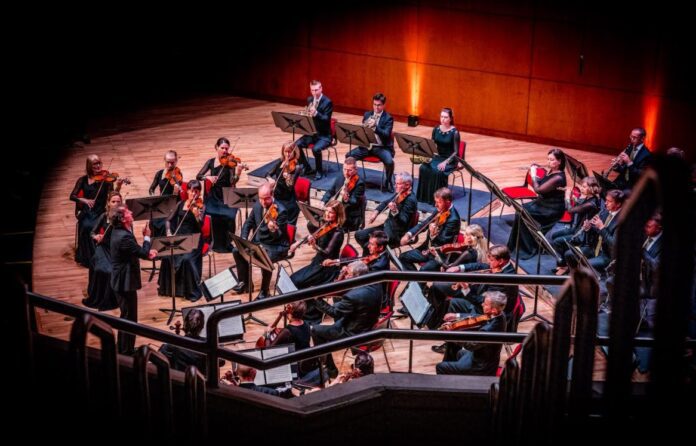 The Irish Chamber Orchestra has introduces their Autumn/Winter Season, presenting diverse works with a particular focus on Mozart.  The orchestra explores inspirational music with the multi-faceted Jörg Widmann (Principal Guest Conductor/Artistic Partner)and will present performances as a mix of streams and small audience concerts, in accordance with current covid guidelines.
The opening September concert features MOZART & STRAUSS in front of a small audience of 50 people on Wednesday 15 September at University Concert Hall, Limerick.  This concert will also be streamed live from the National Concert Hall, Dublin, on Thursday 16 September.
Sign up for the weekly Limerick Post newsletter
The ICO will also perform on Friday 17 September as part of the Clifden Arts Festival.  These mark Jörg Widmann's first concerts with ICO in a year and a half as the orchestra emerge from this dark period with a focus on Mozart.  The healing Adagio from his C Minor Adagio & Fugue is reminiscent of a French overture, whilst the Fugue rolls on relentlessly to its close.  Mozart's powerful Wind Serenade brims with colour, sophistication, and dramatic intensity.
Finally, Richard Strauss's post-war masterpiece Metamorphosen mourns the death of German culture while at the same time this ravishing music evokes themes of rebirth, growth, and transformation.
We welcome back the amazing violinist Thomas Zehetmair with Irish mezzo-soprano Paula Murrihy for an emotive performance at the National Concert Hall, Dublin on 21 October and again at University Concert Hall, Limerick on Friday 22 October. With a continued focus on Mozart, we feature his joyous Paris Symphony, one of his most thrilling works. Berlioz's colourful six songs, Les Nuits d'été, based on Gautier's La Comédie de la mort ooze passion as sung by Paula Murrihy.
In November, the ICO is back on the road with the amazing violinist and conductor Florian Donderer visiting Bantry and Kilkenny following a home performance in Limerick.   A rich baroque programme features CPE Bach's delightful Symphony in A major alongside extracts from JS Bach's The Musical Offering. Catch the ICO at University Concert Hall, Limerick on Thursday 11 November, on Friday 12 November in Bantry (West Cork Music) and finally at the Watergate Theatre, Kilkenny on Saturday 13 November.
Finally, Jörg Widmann presents Mozart's final three symphonies which explore all sides of humanity: the grand introduction of No. 39 with its fanfares and dances, the dark drama of the famous No. 40 and finally No. 41, the dazzling Jupiter Symphony.  The ICO presents this powerful programme on Wednesday 8 December at University Concert Hall, Limerick, on Thursday 9 December at National Concert Hall, Dublin, and at St. Nicholas Collegiate Church, Galway (Music for Galway) on Friday 10 December.