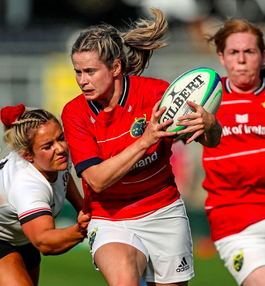 THE Munster Women's side claimed a handsome 50-5 victory over Ulster in the Interprovincial Championship opener in Belfast last Saturday.
The women's interpro season is underway and no team has made a dent in their opponent in the tournaments opening week like Munster has. With a new head coach in Matt Brown and 13 new players making their senior debut, it was hard to know what to expect from this youthful Munster side.
Sign up for the weekly Limerick Post newsletter
The long journey to Belfast didn't appear to heed Munster's form once the game began. Three tries in the games opening 22 minutes secured the momentum Munster needed to make an impact, only to be interrupted by Ulster's only try of the fixture.
The most impressive of Munster's opening tries was one from scrum-half Muirne Wall, who from a quick tap, used her pace to expose the rapidly closing gaps in the Ulster defence and race towards the try line.
Munster ended the first half with the impressive scoreline of 26-5, Munster began to find their rhythm as Chloe Pearse, Siobhan McCarthy, Muirne Wall and Chisom Ugwueru all crossed the line for Munster, with Nicole Cronin adding 3 conversions.
The second half began as the first concluded, with the momentum swinging in favour of Munster as Chloe Pearse earned her 2nd try of the game in just the 1st minute of the second half.
Three further tries from Munster in the following minutes extended Munster's lead to 45 points, one of which saw Chloe Pearse complete her hat-trick.
With a final scoreline of 50-5, the squad's excitement is growing as they prepare to take on Connacht next weekend in Musgrave Park, with kick-off at 7:30pm.
The post Munster cruise to bonus point win in Women's Interprovincial Championship opener appeared first on Sporting Limerick.