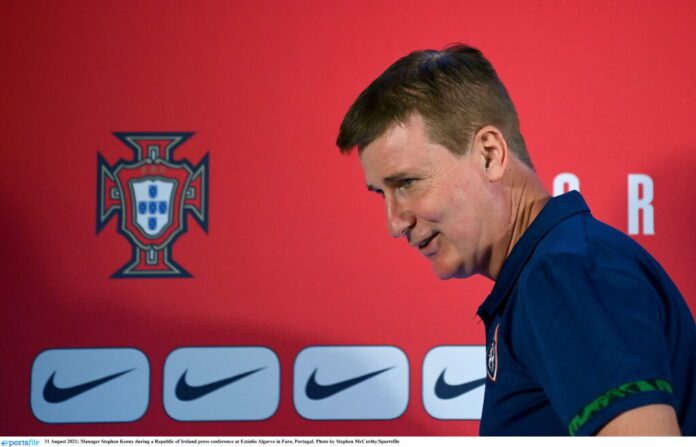 IT'S no secret that all eyes will be on Manchester United's Cristiano Ronaldo as Ireland face Portugal on Wednesday evening, but Stephen Kenny insists that his side will do their utmost to take the game to Portugal when it comes down to it.
Typically for Ireland in recent years, this sort of a game would go down as somewhat of a lost cause, the manager is hoping for more of a challenge from Ireland at the Estadio Algarve. Perhaps the eagerness to go toe-to-toe with the eighth-best team in the world is stemmed from necessity in the third game of this World Cup qualifying campaign.
The opening round of qualifiers saw Ireland put on a good display but still lost 3-2 to Serbia. Three days later, they lost 1-0 to Luxembourg in an empty Aviva Stadium.
"We have to carry an attacking threat and we can't afford to defend for 90 minutes," said Kenny. Portugal have netted 27 times in their last 13 games, the Irish return within that time, Kenny's entire reign, just eight.
"It's not the way we're set up to do that, it's not our intention. Portugal have too much quality to sit back for 90 minutes, it's not workable. We have to have belief in ourselves to carry an attacking threat and that's certainly our ambition."
"They've got a lot of good players all over the park and from our point of view, it's a great game for us. It's an important World Cup qualifier and the players, we feel, we've got a lot of potential in our team.
"We've blooded a lot of players, we've given 11 players their competitive debut, we've given other players some friendly games. We're looking to see even more progress, we had a good June window and we want to carry that into this window."
Squad Update
Kenny stated that the squad in Portugal have a full bill of health going into the game but he would've preferred if his midfielders had received more club minutes as of late.
On top of that, none of his strikers have started in the Premier League this season but both Aaron Connolly and Adam Idah have featured off the bench for Brighton and Norwich, respectively.
The defence looks to be in better stead, personified by Shane Duffy's excellent start to his Return to Brighton under Graham Potter. After a bad run of form, a spell at Celtic looks to have done the trick to see him back at his best as he's started for Brighton in all three league games this time out.
At full-back, captain Séamus Coleman has stressed that focus will lie solely with the game plan, not on Ronaldo or any other of Portugal's star player.
Portugal captain Cristiano Ronaldo is just a goal away from breaking the record of most international goals, currently sat on 109 along with the retired Ali Daei of Iran.
"It's not a case of ruining any parties or anything like that, we have to focus on ourselves. Everyone in the room and everyone in the world knows how important and how amazing Cristiano Ronaldo has been in the last 15 years. It's incredible really," Coleman said.
"As a group we have to focus on what our plan is tomorrow and how we can stop them playing, they have a few players we have to keep an eye on, and what we can bring to the game."
---
In the grander scheme of things, Ireland host Azerbaijan and Serbia over the following six days.
A result in Faro could be elusive but a performance would leave plenty of hope for Kenny and Ireland for the remainder of the campaign.
Group A World Cup qualifier // Portugal v Ireland // Wednesday 19:45 on RTÉ2
The post "We have to carry an attacking threat" – Stephen Kenny ready to take the game to Portugal appeared first on Sporting Limerick.