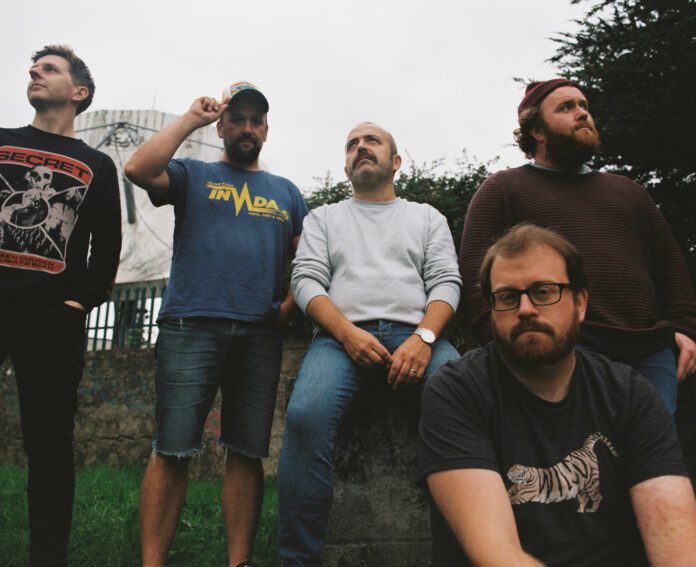 NIETZSCHE said "from chaos comes order" . . . yet, sometimes from chaos, a thing of terrible beauty is also born. The last 18 months have been a time of upheaval and anxiety for many, something that is perfectly encapsulated in windings' first track from their upcoming album, Focus on the Past 5.
'The Ground' reveals windings returning to us at their inventive best. In recent years, the band have captured imaginations with the Choice Music Prize-nominated, I Am Not The Crow and Be Honest And Fear Not – two albums of musical ingenuity, innovation and lyrical complexity.  'The Ground' is the ideal peek behind the curtain at what is in store from the imminent long-player.
Sign up for the weekly Limerick Post newsletter
The fuzzy bass that sits under the breezy track is indicative of the darker lyrical themes that lie beneath an almost playful facade . . . sometimes it's hard to keep the mask on.
During lockdown, windings members kept themselves busy with solo projects (King Pallas), recording and mixing other bands (Powpig, Annas Anchor, Japanese Jesus) and collaborations and album guest spots with the likes of Denise Chaila and Murli. All the while, Focus on the Past 5 (recorded by Girlband's Daniel Fox at Sonic Studios) was taking shape . . .
In their own words: "The songs sat and matured like stinky cheese for all of that year, briefly getting an airing for one or two live-streamed shows the band were able to do over lockdown. While the music and arrangements didn't change hugely over the course of the year, the lyrics and themes are very different to the 2019 versions, as life unfurled in many different ways for the different members of windings.
"This album is a deep dive into half-remembered truths of youth, confusion and doubt, uncertainty and fear, the perception and resigned acceptance of the inevitability of end times, but also an awareness of place, and reminding ourselves to take comfort in the familiar."
'The Ground' and the subsequent album are getting their release on one of Ireland's longest standing and critically renowned independent labels, Out on a Limb Records. The band also make a welcome return to the live circuit over the coming months (dates below) with Focus on the Past 5 set to drop on Friday November 5. It's good to have them back . . .
For further information / images / interviews please contact [email protected]com or [email protected]
Live shows:
Friday, September 10: Fall Right Into Place Festival with The Mary Wallopers, Junior Brother, Bitch Falcon, Soda Blonde – Claregalway Castle
Saturday, September 18: Clonakilty Guitar Festival