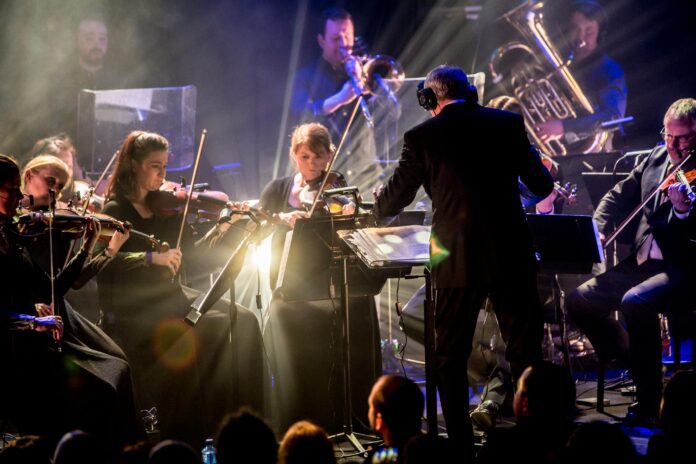 COLLABORATION, multiplicity, and ingenuity pulsate once more in this latest high-energy series by the Irish Chamber Orchestra.  I Create Online Series 1 and 2 made a serious impact online during Covid and Series 3 only expands on ICO's resourcefulness in more ground-breaking partnerships.
Episode 1, YES SIR I CAN BOOGIE is our biggest collaboration to date as the ICO turns up the tempo to disco!  An upbeat short movie, it reflects the confines of Covid through the freedom of dancing at home – alone!  This is pure escapism and fun as the Irish Chamber Orchestra led by Katherine Hunka perform a fabulous cover of Baccara's 1977 disco classic, Yes Sir, I Can Boogie.
Sign up for the weekly Limerick Post newsletter
The music is arranged and produced by Jimmy Smith with Jennifer Healy and Sharon Gaynor excelling on vocals.  Starring dancers Jean O'Donoghue and Hannah Scully, this short film is produced by Shane Serrano, edited by Philip Shanahan with audio mastering and sound by Paul Ashe-Browne.  YES SIR I CAN BOOGIE will broadcast across ICO social channels on Thursday 30 September.  Watch promo here.
 Episode 2, THE CAT & THE DOG is a magical collaboration between Irish author and story-teller Eddie Lenihan and the Irish Chamber Orchestra.  ICO Violinist and composer Oonagh Keogh has penned a gorgeous soundscape for this delightful tale of pet rivalry, which is performed by fellow musicians Katherine Hunka, Nicola Sweeney, Malachy Robinson and conducted by Oonagh Keogh.  THE CAT & THE DOG are brought mischievously to life by creative guru Philip Shanahan with his love for animation and motion graphics shining through.
Shadow puppetry is an art that collapses the world from three dimensions towards two and is a medium that is conducive to the extraordinary. THE CAT & THE DOG is a charming production, full of humour, irony, and imagination and broadcasts across ICO social media channels on Thursday 28 October.
Episode 3­­, FRACTURED 22 is an intriguing collaboration with the don of hip-hop, DJ Naïve Ted, Irish Chamber Orchestra with ICO Principal Cellist and composer Christian Elliott and Film Maker, Dominik Kosicki.   Christian composed material for 22 players in the orchestra in such a way that the music could be layered or used individually. 
Naïve Ted worked his magic with various add-ins and spins to create new sounds and to hear the Irish Chamber Orchestra in a completely new guise.  Dominik merged these collaborative elements together in an exceptional video production, FRACTURED 22.  This final episode will broadcast across ICO social media channels on Thursday 25 November.   Don't miss another great trilogy from the Irish Chamber Orchestra.
The Irish Chamber Orchestra is resident at the Irish World Academy of Music and Dance at the University of Limerick and is funded by The Arts Council of Ireland/An Chomhairle Ealaíon.  www.irishchamberorchestra.com
For further information/images, contact: [email protected] or on  0868092781