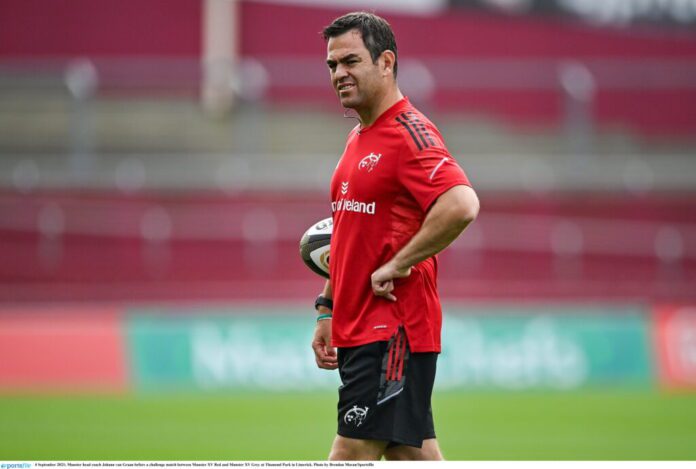 JOHANN van Graan was fielding questions ahead of Munster's trip to Exeter this weekend.
Munster Head Coach Johann Van Graan is at the start of his fourth year in charge of the province and since his arrival in late 2017, the club has endured it's fair share of high's and lows.
Sign up for the weekly Limerick Post newsletter
However much of Van Graan's efforts since he came to the club are beginning to bear fruit as the province prepares for their maiden season in the United Rugby Championship with what might be the most promising group of players Munster has had in decades.
"Coombes had an exceptional season being our player of the year, scoring a whole host of tries, 5 yards away from the go line have been exceptional, potentially being one of the very best in the way that he finished, making his international debut. I think theres a lot of guys that we've got high hopes for in the season, obviously the three young 10's in Ben, Jack and Jake, really looking forward to see how they develop.
"We've got a very good mix in our back field between some more experienced internationals and some young guns pushing through. In my view it's a very well balanced squad.
"I think last season we played 53 lads, if you look at the amount of games that will take place over the season pretty sure we'll get a whole host of guys playing and back in our squad so a lot of exciting young and old guys that will play for Munster through the year."
This season also marks the return of Munster's most recognisable players.
Simon Zebo left his native province and club of Munster to join French rugby giant Racing 92 in 2018, despite falling short of Champions Cup glory to Exeter in 2020, Zebo gathered invaluable experience playing with some of the worlds best players at one of the games most significant clubs.
"Zeebs (Simon Zebo) came in on the first day and it was like he was never away..
"He's been brilliant, he's worked really hard on his conditioning. You can also see from a leadership point of view and a back three point of view the role he will play within the team. We've got a lot of depth in those positions.
"Right from the offset we said he's not guaranteed a place in the team, just like every other player he's going to have to work and perform to get into that starting team.
Munster fans around the world rejoiced when news broke of Zebo's return, and the addition of his ball carrying ability to the Munster attack will undoubtedly result in some exciting rugby throughout the upcoming season.
However despite Zebo's reputation and experience, the full-back jersey is far from his to keep, Munster have a wealth of talent in their changing room all gunning for the number 15 jersey. Player's like Mike Haley, Matt Gallagher, Sean French and Jonathan Wren in the academy will all keep Zebo on his toes when it comes to selection.
Like all coaches around the world, Van Graan's job was made far more difficult due to the obstacles posed by Covid-19. However this upcoming URC season is accompanied by a sense of normality with fans being reintroduced to sporting events around Ireland, Thomond Park will regather its sense character which was bitterly missed.
Due to Munster's pre-season clash with Bath being cancelled due to positive Covid-19 cases within the Bath squad, both Van Graan and Munster explored their options as to not leave the weeks of preparation go to waste. Cleverly, Van Graan and his team conceded the idea of the Munster Challenge Match which took place in Thomond Park last Saturday.
"The one thing all sports teams in the world have become very good at is adapting, that's just the world we're living in now. We just made a plan, and on Saturday what could have been a negative was turned into a very positive experience. It was great to have a whole host of young lads out.
"Exeter away is a massive step up, this won't be any ordinary pre-season game. They will certainly test us and it's something we're looking forward to. We're gonna take a big squad down there, it's not so much about the result, obviously we'd like to win the game but we're going to change a lot throughout that game, giving guys certain minutes and testing certain combinations.
"In terms of intensity, a massive step up, but our focus is on the pre-season and we're treating it like a pre-season week."
Although Van Graan's schools style colours game was a success, Munster now face a tough chore in the form of Exeter Chiefs. Munster are set to play the 2020 Champions Cup winners in Sandy Park this coming Saturday, in their final pre-season game before the beginning of the URC season.
The 10 Munster players who featured for Ireland in the Vodafone Summer Series, like last weekend, will not available. Van Graan is likely to take a core group of players who featured in last weekend's Challenge Match, along with a select number of academy players and younger members of the senior squad looking to state their claim for a starting spot in the coming season.
Kick-off against Exeter is at 3pm on Saturday, September 11th. Although there will be no live stream or televised coverage of the game, you can follow @MunsterRugby on Twitter and Instagram for live match updates and pictures.
The post Munster Head Coach Johann Van Graan on his squad, pre-season and the return of Simon Zebo appeared first on Sporting Limerick.