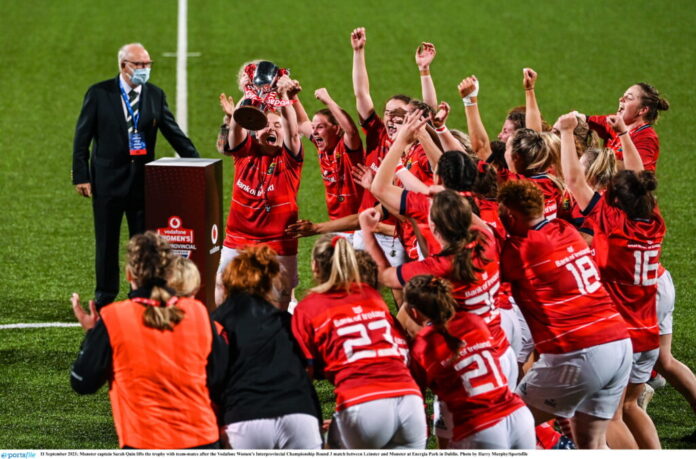 AN excellent second half showing brought the first Women's Interprovincial title to Munster in four years.
With Ireland players occupied with preparation for the start of the Rugby World Cup qualifying tournament, this season's Interpros were played without the international players.
The hosts, Leinster led 7-5 at half time, vying for their third Interpro in a row. The had been leading by seven, following a 16th minute Lisa Callan try and Jenny Murphy conversion.
The Munster team that arrived on the pitch in the second half had a win in their sights.
Just after the hour mark, Pearse got her second try to put Munster in the lead as Cronin was successful with the conversion to make it 12-7.
Deirdre Nic a Bhaird confirmed a Munster victory just as the game entered the final five minutes with a converted try.
A modest Chloe Pearse was awared player of the match as she said afterwards: "If I'm scoring the tries, there's 14 other people that put me in a good position to do so. They've done the hard yards, all I'm doing is dotting it down.
"I don't care if I don't score any, as long as we win the Interpros, to be honest with you. Winning this (player-of-the-match) award is nothing compared to winning that (trophy) over there.
"I'm disappointed not to be in Italy (with the national squad), but I'm at home here in a red jersey. The girls welcomed me back with open arms.
"And right now this is where I needed to be and this is what was made for me, and I'm delighted to be here."
Captain Sarah Quin lifted the trophy as Munster ended up winning on a scoreline of 19-7.
"It feels unbelievable. We waited three years for this. We just wanted it so much. As I said, it was three years in the making.
There's a lot of us that felt pain in 2018 and 2019 (losing to Leinster). And we just didn't want to lose again, so it was just about that drive."
Elsewhere, Connacht secured third place in the table on three points, one clear of Ulster after both sides drew 12-12.
The post Second Half surge seals Interprovincial Crown for Munster Women appeared first on Sporting Limerick.