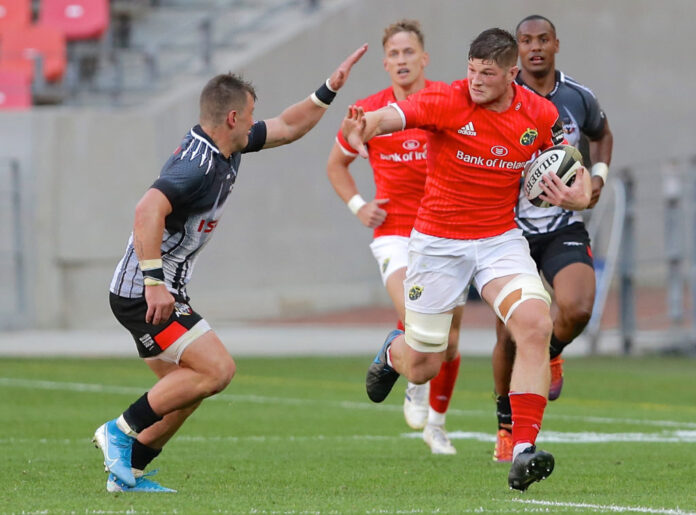 MUNSTER back-row Jack O'Donoghue made his debut for the province in 2014, and since then he has become one of the clubs most central players with over 100 caps for the side at just 27 years of age.
With yet another physical season ahead for both O'Donoghue and Munster, preparation has been key for the back-row as he sets out to make his 7th season with Munster his most successful yet.
Sign up for the weekly Limerick Post newsletter
"Had a good pre season, it was tough, the first two weeks were very much led by the S&C department and I think we got a lot of work done early on and then to be able to focus on the rugby for the latter end of the pre-season was very beneficial for us.
"I think the group as a whole has really hit the ground running, I think you saw that from the result against Exeter that the group of players that are here are a young and ambitious group, there certainly hard working and I suppose we're just looking forward to kicking off the season on Saturday."
Despite the Waterford natives young age, his experience thrusts him into a leadership position within the squad. With key senior forwards like CJ Stander and Billy Holland hanging up the boots at the end of last year, many of the responsibilities regarding leadership now fall on the shoulders of O'Donoghue.
"Yeah I think definitely over the last few years I have been building into that more of a leadership role, I suppose with unfortunately losing CJ, Billy, Tommy, these lads they were huge men within our squad so there is that gap within there.
"Over the last for years there has been that transition period and yeah I see myself as a senior player within the group and to be able to give some words of wisdom to some of the younger lads when your on the field together is hugely beneficial, I've been there in that situation and an arm around the shoulder or a quiet word during a game goes a long way."
Even with the sterling reputation O'Donoghue has earned with Munster, he has been capped only twice at international level. Given the level of competition for Irish spots in his position throughout the four provinces, O'Donoghue is eager to earn his ticket to France for the 2023 World Cup over these next two seasons.
"Yeah absolutely, that's a major driving factor for me personally and I think for a lot of players in this squad is to get into that Irish squad and I suppose you're looking at a world cup in two years time and to be in Andy Farrell's squad for that is hugely ambitious for someone like me going forward."
O'Donoghue also had a wealth of praise for the coaching team that is currently at Munster. With Legendary forwards coach Graham Rowntree paired with the expertise of Steven Larkham, Munster will undoubtedly hit the ground running in their URC opener against the Sharks this Saturday.
"I think it's the coaching group that we have here at the moment, I think it's only their third season that they've all been together and certainly they've been finding their feet and implementing new ideas and a full preseason with the four of them is hugely beneficial to us. Hopefully you'll see now on the weekend and as the season goes on that you'll see a new style of rugby that we're playing, that it's more expansive and that it's a joy to watch.
"Steve is incredible in how he works, he's constantly consulting the game runners, you know our nines, our tens and getting their feedback straight after a game or during the training session and they have a massive input and likewise players do, we are the ones ones on the field and how we feel is incredibly important and for the coaches to be able to take that onboard and to be able to come up with a game plan around that is hugely beneficial to us."
The post LISTEN: Munster's Jack O'Donoghue on preseason, leadership and his goal of returning to international duty appeared first on Sporting Limerick.