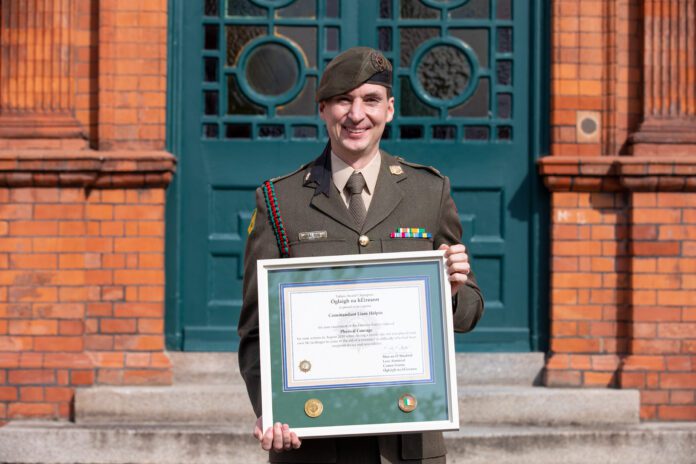 SUPREME Commander of the Defence Forces, President Michael D Higgins welcomed a small group to Aras an Uachtarán where he presented serving members with Defence Forces Values Awards.
Limerick native Commandant Liam Halpin and Sergeant Leona Houlihan from Glenguole, Tipperary were among the awardees.
Sign up for the weekly Limerick Post newsletter
The Defence Forces, Óglaigh na hÉireann, has faithfully maintained a strong volunteer ethos and a set of core values since the foundation of the State. This unique ethos and set of values have, in turn, ensured a continuous and exemplary level of professionalism at home and abroad. Our six values of respect, loyalty, selflessness, physical courage, moral courage and integrity contribute directly to preserving this position and delivering operational effectiveness. They are fundamental to sustaining Óglaigh na hÉireann as a steadfast pillar of the Irish State and are what Ireland reasonably expects from its Defence Forces.
The manifestation of these six values is demonstrated ably by the personnel of Óglaigh na hÉireann in their everyday professionalism and dedication to service to the State. In exhibiting 'living values' by their application in all operations and activities, Óglaigh na hÉireann personnel 'Strengthen the Nation' by inspiring pride amongst the people we serve.
So as to properly recognise Óglaigh na hÉireann' personnel demonstration of 'living' our values, a Defence Forces Values Award ceremony was inaugurated in 2017. The establishment of these awards, in addition to recognising individual acts of living our values, acts as an example to all personnel and in so doing enables greater invigoration of Defence Forces personnel.
Loyalty
Sgt Leona Houlihan
Testimonial: Currently employed as a medical scientist in Central Medical Unit, Laboratory in St Bricins Military Hospital. Covid 19 pandemic highlighted a capability and force protection gap in that the Defence Forces had no independent means of testing their own personnel. Sgt Leona Houlihan is the sole qualified medical scientist in CMU and was forming up for overseas service with 116 Battalion UNIFIL. She was aware of the threat that the lack of covid testing posed so withdrew from overseas and quickly sought solutions to identifying a process that would enable, enhance and protect DF in the fight against covid. She went to great lengths to research and implement a new laboratory system which enables DF to conduct our PCR testing independently. Her loyalty to her profession, her comrades and the Defence Forces is outstanding.
Physical Courage
Commandant Liam Halpin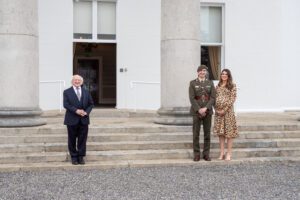 Testimonial: While on a family day out at the beach in Aug 2020 with his wife and family, he noticed young people in the water who seemed to be struggling in the water, the boy got out but indicated that his sister was in trouble. She was taken out by the tide very quickly and the waves were very high. Liam grabbed a body board and made his way out to the area he though she was only to discover that she was swept out even further. Admittedly not a great swimmer himself, he eventually got to her and offered the board, they both held on and kicked back to shore where the emergency services took over. The girl made a full recovery and Comdt Halpins actions on the day undoubtedly prevented a tragic event and he showed tremendous amount of bravery and physical courage.
Speaking at the Awards Ceremony, President Higgins said:" It goes, perhaps, without saying that Óglaigh na hÉireann make a profoundly important and positive contribution to the lives of people across the globe, constantly displaying the bravery and professionalism which makes us so deeply proud of our Defence Forces.
It therefore takes a remarkable person to stand out as an exceptional member of an Organisation so deeply rooted in a spirit of active participation and human solidarity. I am delighted that one of our first gatherings, following Covid restrictions, here in Áras an Uachtaráin is one in which we pay tribute to seven such people, whose actions have exemplified the qualities of moral courage, respect, integrity, physical courage, selflessness and loyalty which guide and define the work of the Irish Defence Forces.
It gives me the greatest pleasure thus to commend and thank Comdt. Liam Halpin, Able Mechanic Kieran Moynihan, Company Quarter Master Sergeant Pat Jordan, Sergeant Leona Houlihan, Able Seaman Eoghan Keegan, Chief Petty Officer John Fenton and Private Damien Greene for those brave and generous actions which have made them such deserving recipients of today's awards."