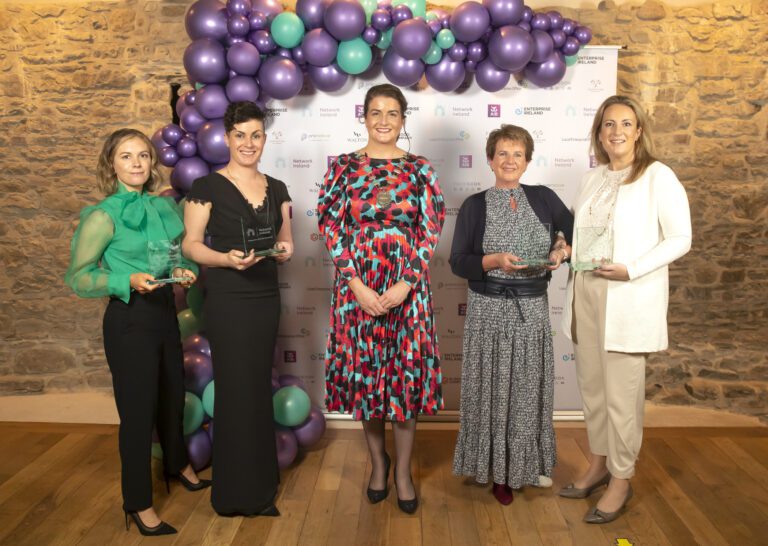 by Tom McCullough
THREE members of the Network Limerick women's business group achieved national success last Friday when they won top category prizes at the Network Ireland National Businesswoman of the Year Awards.
Lynda Sheehan, of Rockbarton Garden Centre, won the Best Solo Businesswoman award while Ber Collins of Crystal Clear Spring Enterprises took the Established Business award and Aisling Finn, of Jaguar Land Rover was winner of the Employee Rising Star award,
A fourth member of Network Limerick, stylist Chloe Markham, was highly commended in the Creative Professional category.
Solo Businesswoman award winner Lynda Sheehan is a well known gardening and horticultural aficionado who likes nothing more than to share her knowledge with others. She is full of practical tips and advice on how to get the very best from your gardens. The competition judges described her enthusiasm for her business as "infectious and truly inspiring".
The tagline  "Say goodbye to bottled water" sums up the thinking behind Crystal Clear Springs Enterprises, the company established by Ber Collins from her home in Meelick. Working with schools, colleges, SMEs and multinationals, Crystal Clear helps its clients reduce waste from single-use plastic bottles through the installation of mains fed water dispensers.
Aisling Finn, who is based at the Jaguar Land Rover software engineering centre on the Shannon Free Zone, believes in facing challenges head-on and living her best life every day. Previously an entrepreneur in the Ed Tech sector, she successfully pivoted her career during the pandemic, while also meeting the many demands of being a mum of four.
435 applicants put their names forward for this year's awards through 14 regional branches of Network Ireland. A hectic season of selection events across the country in recent months resulted in the selection of 72 finalists to go forward to last Friday's event at Waterford's Theatre Royal.
Network Ireland National President Aisling O'Neill said that the award winners shone a light on the fantastic work being done by women around Ireland every day, particularly over the past 20 months.
I'm so proud of all our members who provide support and encouragement to each other every day, embodying the spirit of Network Ireland as the progressive, dynamic organisation we aim to be," she added.