LIMERICK club Garryowen got the better of UCD in Dooradoyle while Young Munster keep Terenure at bay at Tom Clifford Park.
Limerick clubs Garryowen and Young Munster both earned wins in division 1A of the Energia Men's All-Ireland League games this weekend. Garryowen currently top the table with 15 points while Young Munster are in the hunt at third with 13 points.
Garryowen showcased a comprehensive win over UCD in Dooradoyle while Young Munster capitalised on an struggling Terenure College at Tom Clifford Park. Clontarf got the better of defending champions Cork Constitution while Dublin University wore out visitors Ballynahinch.
---
Garryowen 26 – 13 UCD
The light blues retain their table topping position with an impressive 26-13 win over visitors UCD, with Bryan Fitzgerald and Sean Rennison scoring two tries each. Garryowen now sit atop of the Energia Men's All-Ireland League Division 1A with a point to spare, while UCD have some ground to make up after three straight defeats.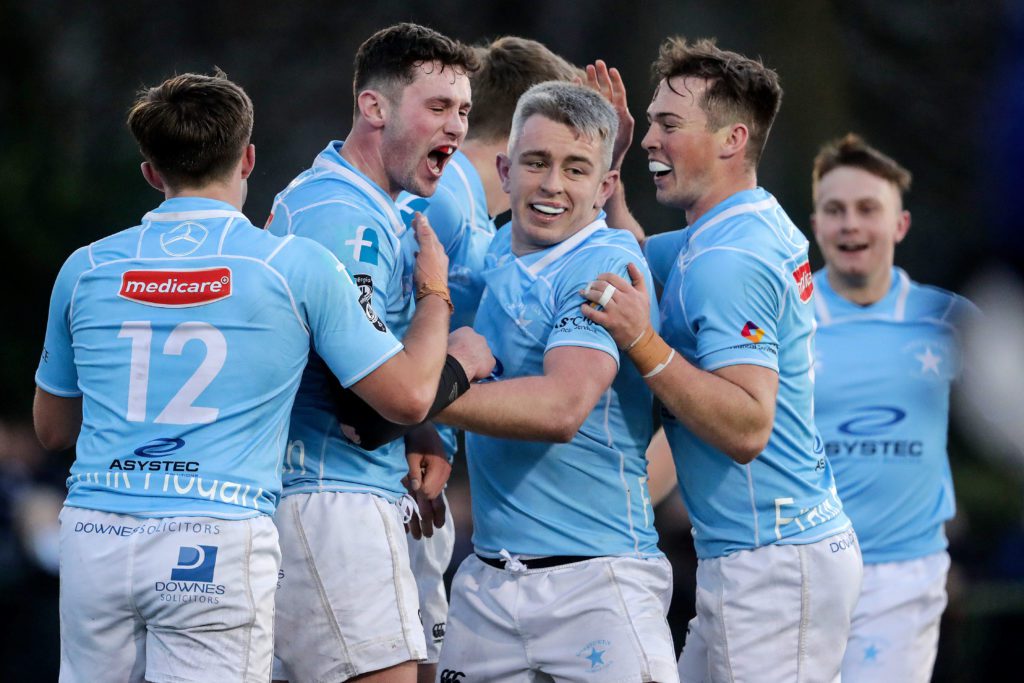 ---
Young Munster 19 – 7 Terenure College
Young Munster continued their AIL win streak with a gruelling 19-7 win over Terenure College at Tom Clifford Park on Saturday. Cookies out-half Evan Cusack led the charge with 14 points from three penalties and a conversion, adding to his overall tally of 37 points so far this season.
Conor Hayes was the only one to cross the line for Young Munster, the same went for Terenure as Peter Sylvester capitalised off a flat pass from scrum-half Alan Bennie to score the only try for the visitors.
Terenure struggled to get momentum going, which was worsened after they were reduced to 14, something Cusack exploited when he whipped a pass to Shay McCarthy to score in the corner, only for it to be disallowed on account of Cusack's pass being dubbed forward.
---
Clontarf 31 – 24 Cork Constitution
Cork Constitution's Energia Men's All-Ireland League title defence continues to look less likely after their defeat to Clontarf in Castle Avenue. Clontarf ran in three second half tries in a 31-24 triumph against a 14 maned Cork Con.
Despite an early try from Cork Con centre JJ O'Neill in addition to a brace of penalties, the reliable boot of David Hawkshaw delivered the majority of the home side's points in the victory.
Cork Con second-row Conor Kindregan was shown red after colliding with Clontarf and Leinster out-half Hawkshaw's head in an unfortunate tackle, which also ended the Leinster out-half's involvement in the game.
---
Dublin University 19 – 13 Ballynahinch
Trinity fullback Luis Faria opened the scoring for the home side by showcasing some impressive footwork to dot down in the corner.
Ballynahinch's goal-kicking centre Greg Hutley led the challenge with all 13 points coming from him, including a late try for the visitors to seal a losing bonus point.
Trinity's Marcus Kiely extended the lead for the students by finishing off an entertaining exchange from open play. The final scoreline was set by Trinity flanker Anthony Ryan, who finished off a maul try in the 71st minute.
The post AIL ROUND-UP | Garryowen secure third consecutive bonus point win appeared first on Sporting Limerick.