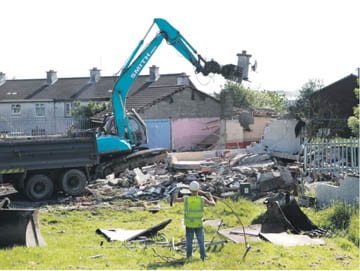 by David Raleigh
PUBLIC representatives have expressed concern over how funds have been spent by Limerick Regeneration, which was set up to tackle crime, unemployment, and substandard housing in four local authority estates.
A special meeting of the Limerick Metropolitan District heard that levels of drug dealing in one of the estates, St Mary's Park, is "worse" than before the community was earmarked for Regeneration 14 years ago.
Fine Gael Councillor Sarah Kiely asked why €346,166 of Regeneration funds were spent on "stabilisation works" to the first phase of the Opera Centre Site, a 3.7 acre city centre landmark commercial development costing €180 million.
90 per cent of the development, which is not located in any of the four Regeneration areas, has been funded through a €170 million loan from the European Investment Bank.
The spending figure was included in a report provided to councillors by the recently appointed Regeneration Directorate.
Cllr Kiely also queried a figure of €31,138 for a "pop-up park at Parade Site".
According to the report, €6.9million in Regeneration funds have been spent since 2014 on the demolition of houses in the four estates: Moyross, St Mary's Park, Ballinacurra Weston and Southill.
The report does not state how many houses have been demolished. However a recent reply sent to this reporter from Limerick City and County Council revealed that 1,287 homes have been demolished since 2007.
Only 269 new homes have been built with 256 more to come on stream over the next two years.
The Regeneration report states that since 2014, only three new units have been built in Ballinacurra Weston; 14 in Moyross; 82 in the Southill area and 19 in St Mary's Park.
The status of additional new builds are either "completed" or "in progress".
However an initial plan to rebuild most of the demolished houses has been replaced with a major "thermal upgrade" of the majority of the existing housing stock.
Cllr Kiely complained that an additional 110 new units at Vizes Court and Lord Edward Street, which were described in the report as the "Ballinacurra Weston" project, "are not in Regeneration areas".
"How can you have so many of these houses built in non-Regeneration areas, and only three in Moyross since 2014?" she asked afterwards.
She also queried how €153,000 of Regeneration funding allocated for conservation works on a rare 19th century Richard Turner glasshouse was of benefit to any of the four Regeneration estates.
It's understood the glasshouse has been stored in a shed in County Tipperary for the past ten years.
Fianna Fáil Councillor Jerry O'Dea asked the Regeneration Directorate to provide a breakdown of the spending of Regeneration funds, particularly in relation to the Opera development.
Councillors also raised concerns relating to potential defects with some of the thermal upgrade works.
Regeneration Director Joe Delaney said he would investigate all  concerns and pledged to meet regularly with councillors to update them on the project, which is scheduled to end in 2023.
Mr Delaney said an exit plan would be formulated in conjunction with the Department of Housing to continue funding approved individual projects beyond the end of the Regeneration period.
He added the Opera site was part of a strategic development, proposed by the Limerick City and County Council development company "Limerick Twenty Thirty", and was interlinked with Regeneration through the local authority to provide employment locally.
Labour Party Councillor Conor Sheehan told the meeting that "the Regeneration ship in St Mary's Park had been left rudderless in recent years".
He said local people were still campaigning for a community centre and that drug dealing was rife in the estate.
"We haven't had a regeneration meeting in months. The entire process has broken down, and I'm really concerned," he declared.
If the community centre is not delivered, "this area will not have benefitted from Regeneration at all.
"We have had problems with widespread and rampant open drug-taking and drug dealing."
He described how a relative who lives near the estate cannot access a local walkway "without side-stepping people taking drugs or who are very unwell having taken drugs".
"Fourteen years on, it's absolutely horrifying and if it were to happen in another more affluent area, I doubt it would be tolerated."
Gardaí have operated extra patrols in the estate over recent months in an effort to tackle local drug dealing.
The estate is also regarded as a base for the Keane and Collopy organised crime gangs.
Mr Delaney said Regeneration is engaging with the community to resolve their concerns.