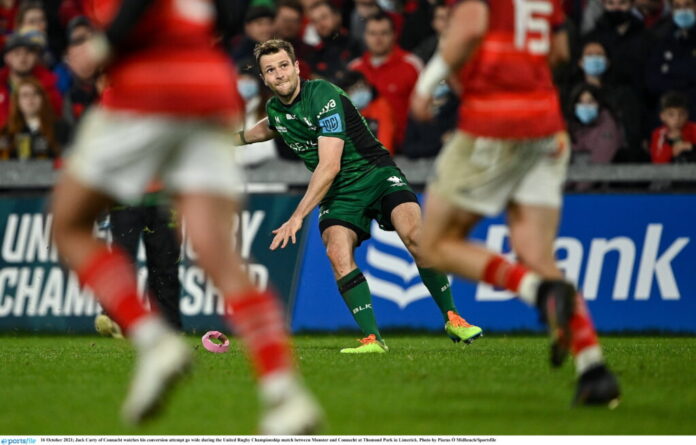 MUNSTER remain unbeaten after their two point win over Connacht at the weekend, yet the result remains highly disputed.
Munster were given a lifeline in their 20 – 18 win over Connacht in the fourth round of the URC at Thomond Park last Saturday. A controversial try from Chris Cloete kept Munster in the game as they dealt with the mounting pressure from Jack Carty's Connacht.
13 out of Connacht's 18 points came from Connacht's all time point scorer, including a charged down kick from Joey Carbery which was marched under the post from Carty. Despite the blunder from the Munster out-half, he maintained a phenomenal kicking game with four kicks from four attempts including the final minute conversion from Diarmuid Barron's try to seal the game for the home side.
Below, we take a look at some of the key talking points from perhaps the most controversial game to take place in Thomond Park in recent memory.
---
Joey Carbery stays comfortable under pressure
Since returning from an 18-month injury hiatus, Joey Carbery has struggled to regather the flare which he once had. Although the pressure from both Munster and Irish fans is hard to ignore, Carbery rose above that pressure when he kicked a last minute winner against Connacht in the fifth round of the URC last Saturday.
Carbery was once considered the heir to Johnny Sexton, yet in the past few months that assumption has been challenged by many within the rugby media, who site the skills of Ben Healy and Harry Byrne instead of Carbery's slow return to form at club level. But last Saturday, in a high pressure situation at rugby's most hostile location, Carbery sealed the win for the home side and maintained a 100 per cent kicking success rate.
Throughout the game, Carbery suffered some discomfort when attacking with ball in hand. This discomfort reached its peak when his opposite number Jack Carty charged down Carbery's kick and regathered to score under the post. Although it was a momentum shifting mistake on Carbery's behalf, he persisted and prevailed when kicking the 79th minute conversion to steal the game back for the read army.
Cloete's try, should it have stood?
There have been some very uncertain calls made in rugby over the years but Chris Cloete's try in the 39th minute is undoubtedly one of them. Although the try itself was scored by Cloete, the controversy lies with Tadhg Beirne, who controlled the ball with his foot for Cloete to regather. Weather Beirne was on-side or not is what's in question, with few to none arguing his innocence and substantial uproar among Connacht fans.
Yet the central source of upset for those in green, was the lack of TMO interference in the try being awarded. Usually, across many sports, scores are not awarded to the teams until the blessing is given by the TMO. There are countless examples of clear, rule abiding tries that still get viewed by the TMO in order to avoid any possible controversy.
Many Munster fans have sympathised with their Connacht rivals, with Munster enduring their fair share of unfair calls made by referee's the real problem lies within the level of officiating within the URC. Many rugby pundits and journalists have criticised the imperfections of these officials yet the URC and World rugby are yet to remedy the issues.
Should we rethink who Munster's big guns really are?
Munster's performance last weekend away to Scarlets was one to marvel at. With many of Munster's big names omitted, the club's young and promising players executed an intricate game plan which caused many to debate who should and should not play come Champions Cup and the business end of the URC.
Player's like Fineen Wycherley and Jack O'Donoghue, who pioneered Munster's win over Scarlets, made a significant impression once they came off the bench versus Connacht. Other players such as Diarmuid Barron proved to be essential for Munster, scoring the concluding try to allow Carbery to add the extra and win the game. Without last week's out-half Ben Healy, further question marks arise around Carbery's ability to organise the Munster attack, despite his consistency off the tee.
With Munster's next game taking place against Ospreys in Liberty Stadium, perhaps Munster Head Coach Johann Van Graan will attempt the merge the youthful talents which dismantled Scarlets with the experienced players who denied Connacht back-to-back wins at Thomond Park.
Has Carty made an argument for an Ireland call up?
Connacht out-half Jack Carty has played for Ireland a handful of times, most recently in Ireland's World Cup loss to Japan. With Johnny Sexton not getting any younger and many unconvinced of the abilities of Ben Healy or Harry Byrne due to inexperience, the argument grows for Carty's inclusion in Andy Farrell's Ireland squad for the upcoming Autumn Internationals.
Yet since Carty's last Irish cap, Connacht's all-time leading point scorer has developed his ability to organise his back line but most importantly his abilities as a leader have stood out. Connacht's all-time leading points scorer Carty brings a very different playing style to the kicking orientated Sexton and the distributing styles of Carbery.
With an exceptional running and passing game in addition to impressive consistency off the tee and from hand, Jack Carty's reintroduction to the Irish set up could be imminent.
---
The post TALKING POINTS | Munster's questionable win over Connacht appeared first on Sporting Limerick.