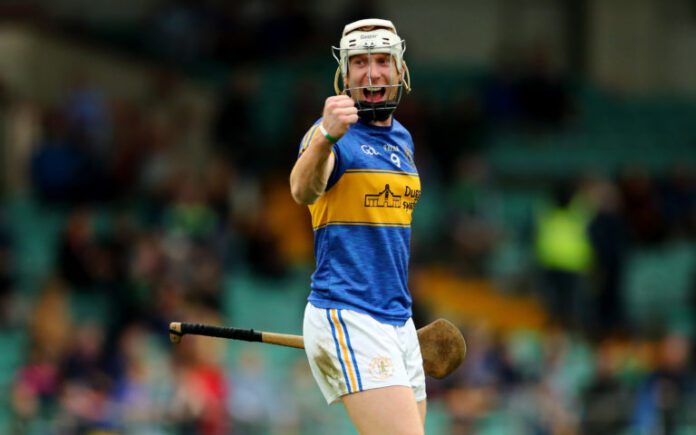 SPEAKING at the launch of the 50th Anniversary of the John West Feile, Limerick's Cian Lynch spoke about his Feile memories, county final, mental health and All-Ireland success.
On Sunday, Hurler of the Year elect Cian Lynch will be aiming to cap off a picture perfect year as his native Patrickswell take on Kilmallock in the Limerick Senior Hurling Championship final.
County champions in 2016 and 2019, Lynch has yet to put All-Ireland and Limerick successes together in the same calendar year, something he will look to rectify this weekend.
Lynch was an integral part of the 2016 side that ended a thirteen year wait for county honours as he fondly recalls the 2003 final as his earliest memory of the championship when he was mascot of the team alongside his late Uncle Paul who passed away last year.
"2003 and Paul, God rest him, was captain the same year. A lovely memory to have and, look, when you're growing up in an area like this you look up to your uncle and local heroes in the club like Gary Kirby and Ciaran (Carey) and Paul, the whole lot of them.
"To be able to go out and then represent your club and play field as these guys were playing on is special. Look, I'm honoured that I've gotten to train and play on the local pitch and follow in these guys' footsteps.
"And me togged out in my own little jersey and togs and socks and walking around with Paul was special and it is a memory that I'll cherish. I suppose when look back on it and look back on the photos it shows you it's the cycle of life.
"As a kid you're dreaming of representing your club and on a day like this and we're very fortunate to be in this position."
All that stands in their way is Kilmallock who have an identical record to the 'Well in this year's championship. And despite the fierce rivalry between the sides, this will be their first meeting in a final since 1992, when the Balbec came out on top.
But for Lynch, while the task at hand is well known, the Patrickswell team aren't looking past themselves as they seek to go two clear at the top of the Limerick SHC Roll of Honour.
"It would be special. Everyone goes out with the same aim at the end of the day.
"Obviously it would be huge. It would end the year on a massive high. But for ourselves, we don't look beyond the training sessions this week and beyond anything else, because we know Kilmallock are a great team.
"We've had great battles through the years. All we can do is focus on ourselves and get the best out of ourselves."
Lynch's relationship with uncle Ciaran Carey is well documented with the latter one of Limerick's all-time greats. Carey led by example with Lynch following in his footsteps as arguably Limerick's best ever player, despite only turning 25 earlier this year.
However, in recent years, Carey has forged a new path off the pitch with his counselling service, 'MyMove' which aims to support to people who are looking to improve areas in their emotional and mental health.
And Lynch has stressed the importance of self care highlighting how "everyone struggles."
"We all have periods where we feel today is not going to be a good day and so it's important to bounce those feelings off people. Males, perhaps, are reluctant to express their emotions. Surround yourself with you can bounce these things off.
"Everyone struggles, everyone has periods in their life where things aren't going well. It's never a problem to ask for help. There is so much light at the end of the tunnel, stay positive.
"We all go through periods in our life when we are not feeling the greatest, where we have days when we get up in the morning and are not feeling right – feeling like today is not going to be a good day. It's important to bounce those feelings off people.
"Males, perhaps, are reluctant at times to express their emotions and feelings. It's important to surround yourself with people you can bounce these things off.
"If there's advice I can give it's that everyone struggles; there are periods in our lives when things aren't going well where we feel down in the dumps. It's never a problem to ask for help. That's the main message that has to be reiterated to people. Reach out. If there's anything I can do for anyone I'll happily pick up the phone and be that rock for someone.
"There is so much light at the end of the tunnel, just stay positive."
An inspiration on and off the field, Lynch will look to further his undoubted legacy this Sunday as he aims for a third county title in five years and a first county and All-Ireland double.
Few would bet against him.
The post LISTEN: "It would be special" | Cian Lynch on combining county honours with All-Ireland success, Feile memories and looking after your mental health appeared first on Sporting Limerick.