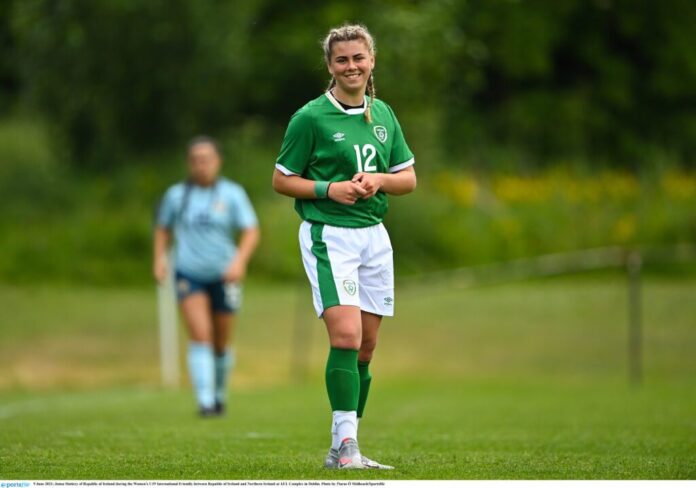 THE Republic of Ireland u19 women's squad will look to gain victory over England in Markets field tonight in their European championship qualifier. Kick off will take place at 7:00pm.
With mixed results recently, Dave Connell and his side will be looking to start with a win and gain momentum for the qualifying stage and build confidence.
Having Lost 2-0 to Denmark and Norway recently, yet picking up a win against Portugal, it is hard to fully gauge where Ireland stand at this point In time. However, the team has only grown stronger under Connell, and will look to impress once again in Limerick tonight.
Forward Aoife Horgan will be in the squad for the clash, the former Treaty United player is joined by current Treaty defender Jenna Slattery in the team.
Following tonight's fixture, Ireland will look forward to facing Switzerland and Northern Ireland in the coming days.
Connell spoke exclusively to Sporting Limerck's Adrian Finnan today, mentioning the growth of the Women's game and the improvement he has seen in the past few years as he said:
"It's grown immensely, it's been brilliant, Airtricity are backing up the Women's national league which is very important… we've come on leaps and bounds."
The u19's manager hailed his players and believes his squad has great potential, not only for the upcoming qualifiers, but also further into the future, as he believes many within his side can reach senior level.
"20 girls, very very strong squad and we won't have any qualms about putting any of them into the team… we're littered with talented players" said Connell.
"At the end of the day, the U19''s, U17's, U16's… It's nice to get to tournaments, it's nice to do very well, but really it's developing players for the women's senior team." Added the Irish manager.
Republic of Ireland Women's Under-19 Squad:
Goalkeepers: Rugile Auskalnyte, Savannah Duffy
Defenders: Therese Kinnevey, Jenna Slattery, Della Doherty, Jessie Stapleton, Emma Bucci, Shauna Brennan
Midfielders: Teegan Lynch, Eva Mangan, Muireann Devaney, Nicole McNamara, Ellen Molloy, Maria Reynolds, Melissa O'Kane, Kate Slevin
Forwards: Aoife Horgan, Rebecca Watkins, Kerryanne Brown, Erin McLaughlin
Watch Dave Connell interview in full here:
The post WATCH: Republic of Ireland U19 Women's manager Dave Connell looks ahead to European Championship Qualifiers  appeared first on Sporting Limerick.