LIMERICK comedian Karl Spain will host the best of Irish and international guests at his new monthly KARLnival happening at 1314 @ Jerry Flannery's Bar. The first show features  Andrew Maxwell and Emman Idama this Thursday October 21.
Karl Spain started his comedy career here in Limerick over 20 years ago and has been a regular on stage and screen since. He was last on our TV screens hosting Laughter In The Eyre filmed at Galway Comedy Festival in 2019.
As well as being a regular at Róisín Dubh, Kilkenny Cat Laughs, Edinburgh Fringe Festival and Montréal Just for Laughs, Karl was a resident writer for Republic of Telly and still is for countless other comedians.
Limerick Post chatted to Karl about collaborating with other comedians and the new location for his new KARLnival series.
Comedy looks like a solo sport to the outsider, so it is surprising to hear that comedian friends of Karl take a collaborative approach to their joke writing
It all came from Karl making suggestions to his fellow comics and he ended up writing for them.
"During the lockdown, I had regular zoom calls with certain comedians and they were trying to write new shows and stuff like that and work through the material."
"If you have a line in someone else's set, I get the same kick that the audience gets."
"If it gets a big laugh, I get the same joy that I get being on stage myself, it's a great feeling."
Karl refers to a comedy workshop in Tullamore that he is involved with which teaches comedy to people, such as local politicians and a local clergyman, who have never done stand up.
"There was a Protestant minister, who had a story about his dog going missing. But people thought he'd gone missing. So I gave him a line that destroyed the room which was like, the housekeeper says, the last time I saw him, he was running down the garden and all he had on him was his collar.
He said, I couldn't say that!
I said, trust me, trust me, no one thinks you actually did that, you know, and he said it, and it was huge, and it was a great moment he just looked over and kind of nodded and I went, Yeah!"
Even from Karl's earliest gigs in Dolans in the early 2000s he could always count on a strong home support.
"The Limerick crowd were always so good to me. But if you mess up they'll let you know."
Irish audiences in particular are at a show to have the craic and enjoy listening to a rambling yarn. The comic and the audience know the magic will happen when the stories flow.
Karl says "It's a contract we all entered into up here, so let's honour it"
Karl's series of monthly comedy nights, with some big names yet to be announced, take place at 1314 on Catherine Street.
"Flannerys is a lovely venue. It's similar in layout to Roisin Dubh in Galway, there's a similar feel in the room but it is far more ornate.
For comedians and audience, it is a good room, the bar is at the back, there is no noise, you don't have to walk by the stage to get to the loos, all the things that make for a good show.
"So the comedians will have no excuse!" Karl laughs.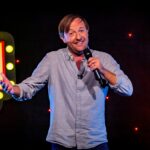 On the bill for the show is Andrew Maxwell and Emman Idama.
Andrew Maxwell is a perennial favourite in Limerick. He has appeared on everything from I'm a Celebrity to QI and Roast Battle on Comedy Central.
Passionate and hilarious about the things that matter to him, Maxwell went viral talking about the Irish Border and Brexit stating, "Number one, it's not the Irish border, it's the British border in Ireland. The Irish border is the beach," this was watched by over 200million people worldwide and had over 250,000 comments.
Nigerian-born Irish citizen Emman Idama has performed at the Vodafone Comedy Festival, Kilkenny Cat Laughs, Electric Picnic. He has also appeared on RTE's Republic of Telly and The Year That's In It (in 2014 and 2015), and on Des Bishop's This Is Ireland in 2016.
All ticket holders must be fully vaccinated. COVID certs/proof of vaccination will be checked at the door, along with a valid I.D. This is in line with the guidelines issued from HSE regarding indoor events.
Comedy KARLnival Limerick happens monthly at 1314 @Flannery's