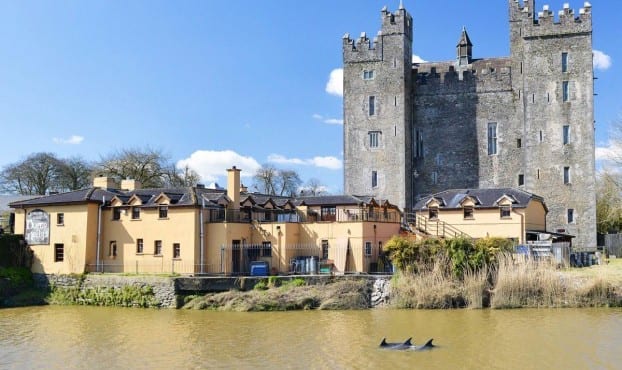 OFTEN known for dungeons, torture chambers, past tyrant owners and ghoulish spirits, most Irish castles today are fun places to visit or luxurious places to stay. The latest national survey, to celebrate Halloween, has finally established the pecking orders for Ireland's favourite castles with the Irish public, with top of the pile being the internationally famed Bunratty Castle in Co Clare.
Just over one in six people (17 per cent) voted for the 15th Century Bunratty Castle, with its famous Folk Park, pipping another famous tourist attraction, the 800-year-old Kilkenny Castle, into second place with just over one in seven giving it their first preference (15 per cent), according to the national poll of over 1,000 people carried out for online lottery company Lottoland. Next with just over one in ten Irish people voting for them were Dublin Castle and Cork's Blarney Castle, with its well known kissing stone which bestows the 'gift of the gab', followed by the luxurious Ashford Castle in Cong, Co Mayo (9 per cent).
Perhaps surprisingly, the well known concert venue of Slane Castle in Co Meath finished down the list of popularity with just 7 per cent of the vote,  but it did get its biggest preference vote from the millennial 18-34 year age group. Lord Henry Mountcharles' famous castle and concert venue still came in ahead of other famous battlements such as Trim Castle in Co Meath, Ross Castle in Killarney, Birr Castle in Co Offaly and Cahir Castle in Co Tipperary, the last of which hasn't received the bounce in popularity yet from Matt Damon's latest film, The Last Duel, which was filmed there recently.
Graham Ross from Lottoland Ireland said "With families and intrepid explorers finally able to get out and about this Halloween, there was never a better time to find out what spooky medieval castle was closest to the hearts or nerves of the Irish public. And despite us all dreaming of owning and modernising our own castle with that life-changing Irish Lotto jackpot win, it seems old school is best with the Bunratty Castle & Folk Park, that most traditional south west holiday destination, coming out top of the pops for the Irish public. Having said that, we're a lucky nation to have so many well preserved and historic attractions available all across the country so get out and get visiting this Halloween!"
– Bunratty Castle                 17%
– Kilkenny Castle                 15%
– Dublin Castle                    11%
– Blarney Castle                   11%
– Ashford Castle                   9%
– Malahide Castle                 7%
– Slane Castle                       7%
– Trim Castle                         5%
– King John's Castle                  4%
– Ross Castle                        4%
– Cahir Castle                       3%
– Dromoland Castle               3%
– Birr Castle                          3%