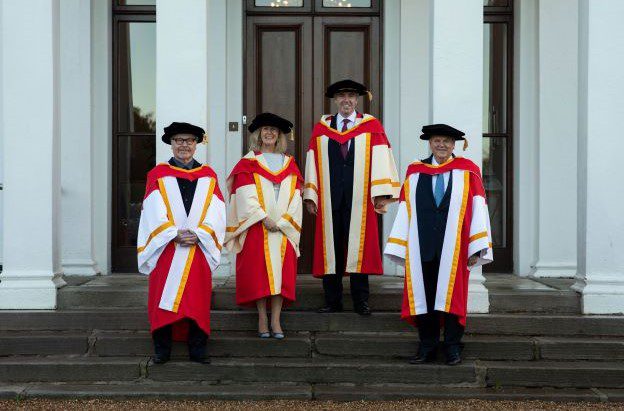 by David Raleigh
THE former leader of Fine Gael and Minister for Finance, Michael Noonan, has said he believes the Fianna Fáil/Fine Gael/Green coalition government will be remembered as one of the most successful administrations ever, for its handling of the Covid-19 storm.
Mr Noonan has had his fair share of political turmoil, having steered the country out of recession in the late 2000s.
The Limerick TD, who was presented with an honourary doctorate at the University of Limerick on Wednesday, has experience in staying the course through political storms – most notably his handling of the Hepatitis C blood contamination scandal in the 1990s.
Mr Noonan also stayed afloat through the choppy waters of Project Eagle and the emergence of vulture funds swallowing up rental properties, and decisions made in relation to the 'Grace' case – which a State Commission of Investigation recently cleared the former health minster over his handling of the case in 1996.
Cushioned by today's celebrations, he was applauded for his finial act on the political stage, in skillfully handling the country's purse strings as the Troika exited these shores during his watch as Finance Minister.
Asked for his view on how the present government has so far handled the Covid crisis, Noonan, 77, was quick to heap praise on his former political colleagues: "If they can put Covid behind them with the very successful vaccination programme, I think they'll go down as one of the really successful administrations."
"These are very tough times, and in different manifestations the government has had a very hard two years, but, overall, they have done well – they get tripped up occasionally on the small things – but they have done particularly well on the big things."
"I think they are a good government, and have all the makings of an even better government with about three years to go. I think they're settling in well," he said.
Mr Noonan vacated the Fine Gael leadership to former Taoiseach Enda Kenny following the party's disastrous performance in the 2002 general election.
Today, showing his trademark dry wit, he joked: "Enda rang me this morning to congratulate me (on the UL doctorate), he told me he'd be down for lunch next week and we'll go over old times, and we'll criticise those that need to be criticised and we'll celebrate those that need to be celebrated."
He has had no regrets having retired his Dáil seat prior to the 2020 general election to make way for newbies: "No, no, there is always a time to go, and it was time to go when I left, and I was glad I didn't stand again."
The former schoolteacher from West Limerick was joined by family members at UL, including his grandchildren 12-year-old Arthur and 16-year-old Valentine Boulman who  travelled from their home in Paris for today's celebrations.
The University also presented honorary doctorates to Dr Anne Anderson, a former first female Irish ambassador to the EU, UN and the US; as well as John Slattery, President and chief executive of aviation leasing firm, GE aviation; and Irish singer songwriter Paul Brady, who has forged links with UL as a patron and tutor at its Blas Summer School.
Ms Anderson, who forged a way for women at a very senior level through a 45-year career in international diplomacy, said Ireland has been a "trailblazer" in promoting women to high profile positions.
However, she said, while recent improvements in gender balance "should be celebrated", the pace of progress continues to be "glacial", and "we definitely need to speed up the pace, so let's not underestimate the distance still to be travelled".
Mr Slattery, a UL graduate who now leads the "largest engine manufacturer in the world for commercial aviation" in the US, with annual revenues approaching $30 billion and a workforce of 40,000, said the airline industry is "seeing a strong rebound" in business along with increases in Covid-19 vaccinations.
Mr Slattery said he expected narrow-bodied regional flights to return to pre-Covid levels by the first quarter of 2023, and a similar outcome for wide-bodied long-haul international flights by the first quarter of 2024.
"The key is to get vaccinated and to take booster (vaccines). We'll be living with this for a while and it's going to be the new normal for the next couple of years," Mr Slattery said.