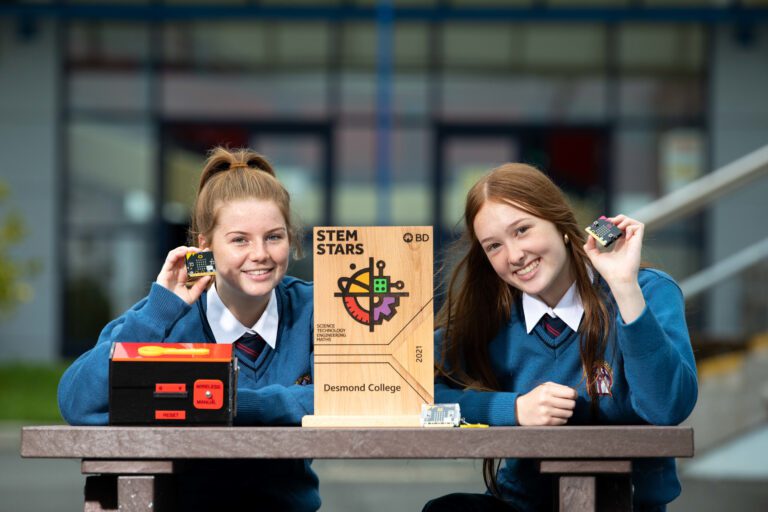 BD RESEARCH Centre Ireland (BD RCI) in Castletroy is calling for entries to its third annual 'STEM Stars' https://emea.jobs.bd.com/bd-stem-stars competition, where local secondary schools can win up to €20,000 in funding for STEM education and innovation.
STEM Stars is open to pupils of any class in secondary school who identify a key health care problem and explain how to solve or improve it using STEM subjects.
This year the program has expanded its focus from Limerick and Clare to also include post-primary schools in Tipperary. As they work on their chosen projects, students will be able to participate in STEM Star Clinics where BD RCI mentors will respond to their questions and provide guidance on their project.
Padraig Fitzgerald, Site Director at BD RCI said the company is delighted to announce the expansion of the STEM Stars initiative. "We couldn't be happier with the engagement and traction this event has garnered over the last two years and with the inclusion of even more schools in 2022 we are hugely excited by the prospect of what the talented students will produce. It's truly mind-blowing to see the capabilities displayed by these future engineers and scientists. It makes me feel very optimistic regarding the future of STEM disciplines in this country."
BD is a global medical technology company that is advancing the world of health by improving medical discovery, diagnostics and the delivery of care. Their enterprise R&D hub in Limerick employs 350 people at its state of the art facility in Castletroy, with engineers and scientists using the latest advancements in technology and software to develop solutions for BD's Medical, Life Sciences and Interventional Segments.
The deadline for schools to register their interest is Friday
November 19, with a project submission date of Friday February 18. Judging will take place in March of next year with a total prize fund of €20,000 up for grabs, with the winning school receiving €10,000, a second prize of €6,000 and third prize of €4,000. Schools can register their interest by emailing STEMSTARS@bd.com with the school name, STEM teacher's name, contact e-mail, phone number and the name of the project.
BD STEM Stars is supported by Limerick and Clare Education and Training Board. Donncha O Treasaigh, Director of Schools commented: "Limerick and Clare Education and Training Board is delighted to be involved in supporting this wonderful competition as we appreciate the opportunities that education in STEM creates for young people. BD has worked very closely with teachers and students helping them to develop their STEM knowledge and skillset. This strong partnership is central in ensuring that students are supported to address the challenges that face our generation and future generations."
Ciara Leahy, HR Manager at BD RCI said the initiative aims to encourage and spark a passion for STEM. "We are passionate about supporting future talent and creating opportunities to expose school students to STEM in a practical way. STEM occupations are in phenomenal growth, supporting these subjects and initiatives will foster and nurture future talent and future leaders in this field."