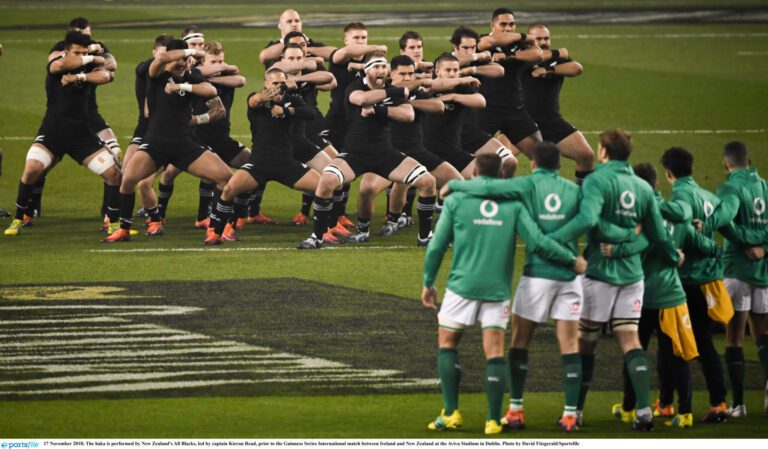 NOW the the dust has settled after Ireland's win over Japan, How should Farrell approach the All Blacks?
The All Blacks are perhaps the most difficult team in rugby to discuss, purely because their god given abilities and skills seem to transcend the best of any opposition they may encounter.
Other sporting dynasties such as Michael Jordan's Chicago Bulls, Ronaldo's Real Madrid or Tom Brady's Patriots have a clear timeline with a beginning middle and end. These finite standards of performance are marvelled at for a number of reasons, yet they are confined to their relevant eras, some longer than others.
Yet unlike these comparisons, the New Zealand All Blacks have defended winning streaks against a number of nations for years if not decades. A victory over the All Blacks in itself becomes immortalised in history, so with that in mind, how does one go about beating them?
---
Ireland have faced the All Blacks 31 times since their first encounter in Lansdowne Road on the 25th November 1905. Ireland lost that game by 15 points to nil, and like many other rugby nations, it began a long history of losing to the All Blacks.
This was until Ireland met the Kiwi's half way in Chicago to play a neutrally located test match for an American audience. Ireland earned their first win over the then world champions by an astonishing scoreline of 40 – 29 putting countless losses, both narrow and large, behind them.
Ireland have beaten the Kiwi's once since at the Aviva Stadium, which was the last time the New Zealanders have played in Ireland. Despite a heavy world cup semi-final loss in Japan, Ireland have fresh memories of beating the All Blacks, reminding them that a significant victory over them is never too big of a dream to have.
Ireland didn't learn much when they beat the All Blacks in Chicago, because as the scoreline would suggest, it was a rare alignment of skill and form where each and every Irish player played arguably the best game of their careers.
But their encounter in Dublin two years later, was a far more concise and calculated example of David shutting out Goliath. The fixture in question was the first time a northern hemisphere team prevented New Zealand from scoring a try in over 23 years, and this defensive masterclass was orchestrated by then defence coach, now head coach, Andy Farrell.
So how can Ireland win?
In New Zealand's most recent game which was against Italy, the game began in the worst possible way for the All Blacks. With nine handling error's in the game's opening 20 minutes, the All Blacks were a frail version of their otherwise dominant stature.
Granted, the team that faced Italy were a second string selection with few key players involved, namely Sam Cane, Dane Coles, Richie Mo'unga, Sevu Reece and Damian McKenzie, yet these big names were unable to paint over the cracks of what was otherwise a poor performance.
Many of the early errors came from lesser known players like Braydon Ennor, but as the game went on and the number mistakes increased, the drop in standard appeared to contaminate some the All Blacks more central players, seen when Damian McKenzie coughed up a scoring opportunity in the 19th minute.
Although the All Blacks can be and have been beaten by sterling defensive efforts, they can only be beaten if the opposition scores more points. Since Ireland will be playing a full strength All Blacks side, relying on converting their mistakes into points would likely be unwise.
Farrell's men will have to pull the trigger at some stage to get points on the board, and the game's early minutes might just be the time to do it. Eddie Jones' England squad did the very same in their World Cup Semi-final encounter with the All Blacks two years ago, coming out of the gates at a million miles an hour, England scored their first try against the Kiwi's in the game's opening 90 seconds.
Much like Ireland's new found attacking style, England deployed a series of rapid phases which saw the ball travel the width of the pitch twice before entering New Zealand's 22. Now with the try line in sight, England prioritised keeping the ball alive and attacking what space they saw until Manu Tuilagi crashed over just shy of the two minute mark.
Simply put, Ireland will have to defend like they did in 2019, and strike early like England did in 2019.
Take a look at said try in the opening minutes of the video below:
So with the above in mind, there's a strong argument that in order for Andy Farrell's Ireland to beat the All Blacks, the Irish will have to attack early and defend accurately. By rehearsing a number of early phases to prevent the All Blacks from finding their feet and to exploit their early defensive set up, Ireland could make enough of a dent in the scoreboard to last the remainder of the game.
In order for this to work properly, Ireland will have to starve the All Blacks of territory and possession and play a far more pragmatic game than they did against the Japanese. New Zealand's sluggish start against Italy might just signal some cracks in the All Blacks' foundation that Andy Farrell can exploit.
The post Ireland vs The All Blacks | How can Farrell challenge the best in the business? appeared first on Sporting Limerick.