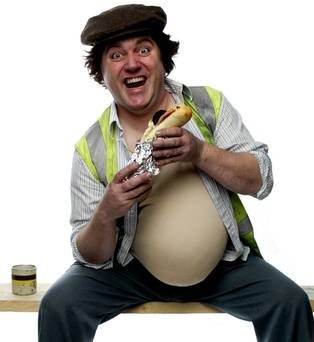 by Alan Jacques
alan@limerickpost.ie
MUCH-loved comedian Pat Shortt may have to rethink his breakfast habits if a Limerick animal rights activist has his way.
In his popular 2006 single 'The Jumbo Breakfast Roll Song', the Castleconnell-based entertainer sang about not having time for fancy breakfasts or putting muesli in a bowl.
Instead, Shortt, like many others, opted to head "to the Statoil garage for the jumbo breakfast roll".
But the 'Killinaskully' star might now have to reconsider that muesli.
Outspoken Limerick animal rights campaigner John Carmody is calling for the greasy Irish breakfast favourite to be taken off menus for the betterment of the environment.
Speaking to the Limerick Post this week, Carmody, who has been at the forefront of animal rights in Ireland since 1995, took the view that our love of meat is killing the planet.
"There is no doubt about it, climate change has finally landed on our doorstep, and whilst we're not feeling its full effects just yet, the threat is looming," he said.
The Limerick activist, who has devoted his life to helping animals, believes the pressure is now on for big business to pull up their socks and make immediate and meaningful change.
"Equally, individual consumers should wake up to their addiction to meat that's literally killing the planet off one bite at a time. Who'd have thought the breakfast roll would create untold damage responsible for emitting more greenhouse gases than all of the world's transportation, the massive drain on water usage, unmerciful pollution and obscene use of land whilst stripping our oceans bare.
"Although it might seem frivolous and comical that one would question their Sunday morning hangover favourite, the reality is that for each bite of this innocent food item, it would leave a nasty taste on the world's climate," John claimed.
The passionate Limerick campaigner is of the view that a more plant-based version of the jumbo breakfast roll could be the way forward in the future.
"I guess 'cancel culture' might not be all that bad when we realise that we need to eat more greens to keep the climate healthy and wholesome for future generations," he concluded.