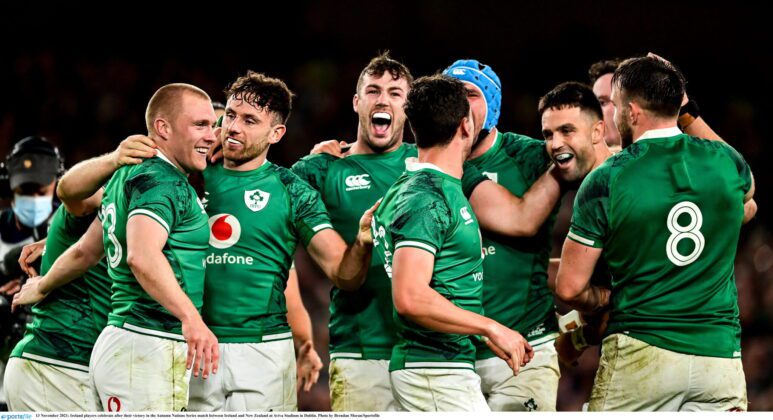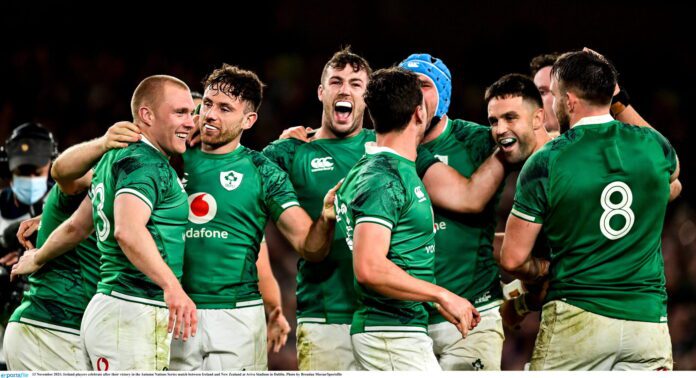 IRELAND'S triumph over the New Zealand All Blacks at the Aviva Stadium last Saturday was undoubtedly the most significant win of the 2021 Autumn Nations Series.
After breezing past Wales and Italy, the All Blacks lined out their strongest team against Ireland and came up short.
A lot has been made of Andy Farrell's squad and team selections in the weeks leading up to this unpredicted victory, but what's evident now, is that the dual code legend has an act for picking apart the number one team in the world.
His Leinster dominant team selection was clearly the correct combination to unravel the Kiwi's, but not every player has cemented their place in Farrell's starting 15, with performances varying from exceptional to acceptable.
Below are player ratings for the Ireland matchday 23 which toppled rugby's greatest opponents.
---
Andrew Porter – 7.5
What's easy to love about Porter is that he can really set the tempo on both sides of the ball, effortlessly shifting the level of intensity when needed. A loose head is often required to carry out thankless tasks, such as line out lifts, hulking defensive efforts and short carries, which Porter did without error. Scrummaging against the All Blacks is never easy but Porter is a key part of what will likely be Farrell's first choice front row trio going into the world cup in two years time.
Ronan Kelleher – 7.5
Kelleher added to another layer to the Irish attack in many ways similar to a Taulupe Faletau or a Sam Simmons. Not only were his efforts at the breakdown and in defence exceptional, but his ball carrying abilities give Ireland yet another attacking threat whether in open play or apart o a set piece, which was seen in his second half try. He's not rated higher due to some inaccuracies regarding his line out throws and a sloppy double movement which resulted in Tadhg Furlong's try being disallowed and gifted the All Blacks three points.
Tadhg Furlong – 8.5
Furlong is without a doubt the best tight head in international rugby at the moment. Furlong can add reams to the Irish attack with exceptional ball handling paired with power and pace, his defence and scrummaging are almost impossible to fault. Bar a miscommunication resulting in the gap exploited by Dalton Papali'i which resulted in Cody Taylor's try, Furlong's performance on Saturday was hard to fault.
Ian Henderson – 6.5
The game seemed to get away from Henderson, a few silly penalties on his part allowed the All Blacks to get some points on the board. Henderson has great hands and can carry very strongly, his size was also an asset in the line outs but he was out worked by the other second-rows on the pitch
James Ryan – 8
James Ryan was as consistent as ever and does all the thankless jobs that you would usually see world class second rows fulfil. Ryan is always an asset when he's on the pitch due to his communication and organisation skills, almost like having a second captain.
Caelan Dorris – 9
What can you say about Caelan Dorris? regardless of his momentum shifting try, Dorris did everything you needed from a number six plus more. For any given back row to put in a consistently physical 80 minute shift is a rare occurrence and his rugby IQ stood out for such a young, relatively inexperienced player at international level.
Josh Van Der Flier – 8
Van Der Flier did exactly what he was selected for, his defensive impact was immeasurable but wasn't given much to work with on the attacking side.
Jack Conan – 7.5
Conan was not as visible during his time on the field, yet he was often targeted in the line outs and was defensively solid. When Conan did get the ball he ran hard and straight, keeping the pressure on the All Blacks defence.
Jameson Gibson Park – 9
JGP was at the centre of Ireland's win on Sunday. Sexton wasn't involved in every set piece Ireland threw at the All Blacks, but Gibson Park was. Farrell is clearly trusting Gibson Park with a significant amount of responsibility and it seems to be working. His defensive anticipation was second to none, single handedly denying the All Blacks two tries purely by putting his rugby IQ to use.
Johnny Sexton – 6
Sexton was unable to score a point until the 52nd minute, when Dorris' try gave him a conversion shot directly in front of the posts. The 2018 World Player of the Year added very little to the Irish attack and many of Ireland's best attacking phases were the ones he was least involved in. He led Ireland into the All Blacks 22 on sixteen occasions but only left with points on four of those. Sexton also only kicked one of his three penalties.
James Lowe – 8.5
Lowe is a shadow of his former self which we saw struggle in last years Six Nations. He was targeted a number of times but held up well under the gun. Farrell appeared to use Lowe as a third centre in many ways, running lines in the middle of the pitch and was often receiving and countering kick-offs, only attacking wide channels when space presented itself. There is now a good argument for Lowe to be Ireland's first choice number 11.
Bundee Aki – 8
Bundee Aki has now beaten the All Blacks twice and its clear he enjoyed this win just as much as he the first. A physical specimen who is a defensive rock in midfield, Aki showcased some impressive passing abilities when Ireland needed it most in the lead up to Lowe's try.
Garry Ringrose – 8.5
Ringrose was trusted with defending the most difficult part of the pitch, against the world's best and he did just that. His try saving tackle on Jordie Barrett was probably his most obvious contribution, but his neat and concise attacking was instrumental to keeping the Kiwi's on their toes and giving Ireland small, yet crucial meters.
Andrew Conway – 7.5
Conway conceded three penalties in the game, but he had to break a few eggs to make an omelette. Due to Ireland's narrow attacking shape, Conway was often defending large patches of space against a pacey All Blacks back three, so therefore he had no choice but to infringe in order to sacrifice meters and points. He wasn't much of an attacking threat as he was against Japan, but that's likely down to where the space was, which more opportunities opening up on Lowe's side of the field than Conways. However, his defensive efforts were instrumental in keeping the Kiwi's nine points behind.
Hugo Keenan – 9
This was Keenan's first international test match in front of a full crowd, and it didn't phase him one bit. Like Rob Kearney, Keenan can cover an awful lot of space in the back field so that Ireland can have most of their players up in the defensive line. Not only did Keenan defend his pasture, but he continued to develop his innate ability to poke holes in the All Blacks defence when he had the ball in his hands. You could sing his praises all day.
Reserves
Rob Herring – 6
Herring struggled to adjust to the pace and the physicality of the game when he came on. His line out throwing was poor and even gave a penalty away for throwing a dummy at a line out.
Cian Healy – N/A
Healy was only on for four minutes and it feels too harsh to judge a veteran front row on such a short shift.
Finlay Bealham – 7
Furlong will in time pass the torch to Bealham but that doesn't seem to be happening anytime soon. Bealham is a consistent front row who works really well as a substitute, doing the thankless tasks for the games final 14 minutes he was involved in.
Tadhg Beirne – 8
Beirne has made a good argument to start ahead of Henderson going forward. His last gasp turnover to give Carbery a shot at goal to seal the game, just proves the standard he brings to international test rugby.
Peter O'Mahony – 8
Like Beirne, O'Mahony made a huge impact off the bench, not just from a defensive standpoint but from a breakdown standpoint too. He wiped out any skepticism surrounding his selection when he entered the game in the 59th minute, bringing energy and physicality when Ireland needed it most.
Conor Murray – N/A
Like Healy, Murray was only on the pitch nine minutes but did what was needed from him. However, its unclear what his future involvements in the Irish set up will look like given the role Gibson Park has in Andy Farrell's game plan.
Joey Carbery – 9
With Sexton leaving the field after 64 minutes, Carbery took over kicking duties, converting three from three to extend Ireland's lead to nine. Under immense pressure, Carbery wrestled the game back from the All Blacks by taking his points when the opportunity arose, a great sign of a number 10.
Keith Earls – 8
When Earls came into the game with nine minutes left, he filled in at centre, his secondary position. However he defended that channel phenomenally, putting in a result defining tackle on All Blacks winger Sevu Reece.
The post Player Ratings | Dorris, JGP & Keenan lead the way as Ireland triumph over the All Blacks appeared first on Sporting Limerick.