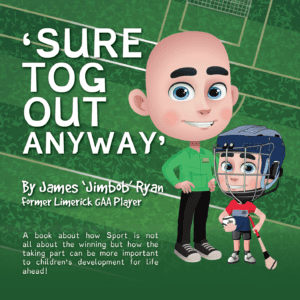 Former Limerick starlet James Ryan is the latest ex-GAA player to turn his hand to writing with the release of his new book, 'Sure Tog Out Anyway'.
Ryan represented Limerick in both senior football and hurling, winning man of the match when the Shannonsiders claimed a Munster Hurling title in 2013.
The book, aimed at children, is about the importance of taking part in sport at a young age, and teaches both adults and kids that winning is not the be all and end all.
"As a Coach and Selector for U20s Limerick GAA James sees the rewards of guiding, teaching, and inspiring kids. There is nothing better than running an exuberant practice that leaves kids with beaming smiles on their faces. There is nothing more beautiful than seeing your young athletes blossom as they grow up.

"While the work coaches do is fulfilling, it also comes with immense responsibility—the care of a human being through all of its physical and mental growth processes. Sure Tog Our Anyway book is aimed at teaching kids and parents that sport is not all about the winning and how the taking part can be more important to children's development for life ahead!"

Sure Tog Out Anyways
Buy 'Sure Lets Tog Out Anyways'
Ryan was a prominent member of both Limerick senior panels in 2008 after two years with the footballers, before focusing solely on hurling from 2011. He helped Limerick end a 19-year wait for provincial honours in 2013 and captained the side in 2017, before stepping away from the panel.
Since then he has gone on to develop his own sports clothing brand,  JBR Sports. The company started as a small supplier of sliothars/footballs and has quickly expanded into a high quality sportswear and sports equipment manufacturing company. You can get in touch with JBR Sports at their email: [email protected].
Buy 'Sure Lets Tog Out Anyways'
The post Former Limerick star James Ryan releases book aimed at teaching kids and parents about the importance of participation in sport appeared first on Sporting Limerick.