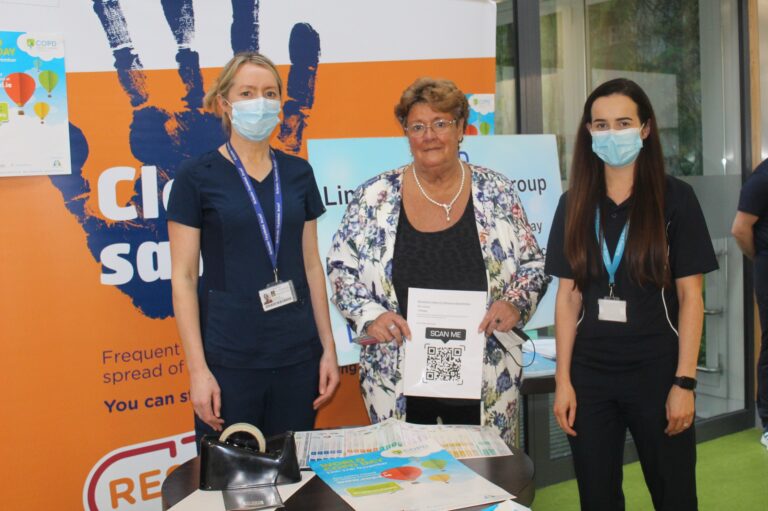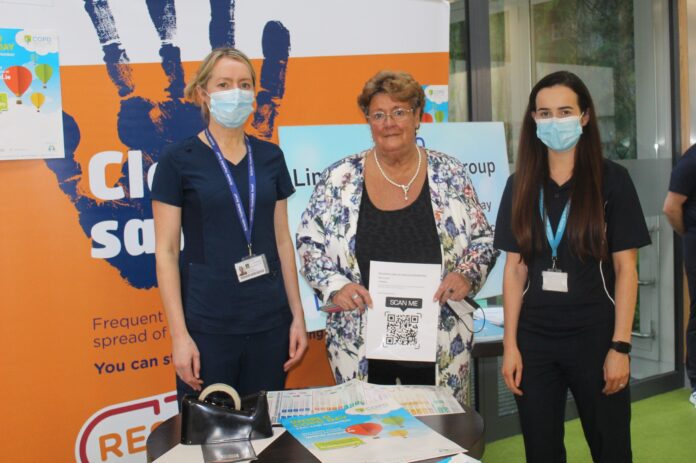 THE HSE and National Clinical Programme (NCP) for Respiratory marked World COPD Day on Wednesday November 17, to help raise awareness, share knowledge, and discuss ways to reduce the burden of Chronic Obstructive Pulmonary Disease (COPD) worldwide.
This year the HSE is empowering people living with COPD to self-manage their symptoms and reminding them of the range of supports and resources available.
Marking World COPD Day along with members of staff at University Hospital Limerick this week were members of Limerick COPD Support Group.
Carmel McCarthy, from Mungret, County Limerick has been living with COPD for many years and says support is available.
"We want people to recognise if they get a diagnosis of COPD, they can do something about it. We don't want people to suffer in silence and isolate themselves. We would like them to get in touch," said Carmel.
COPD is the most prevalent respiratory disease in Irish adults and is a major cause of morbidity and mortality.
It is estimated that 380,000 people are living with COPD, yet only 110,000 are diagnosed. At least 1,500 patients die each year of this disease and over 15,000 patients are admitted to hospital with COPD in Ireland.
COPD has considerable impact on the quality of life of the patient, families, and carers. The course of the disease involves ongoing medical care and in certain patients results in frequent hospital admissions.
Spirometry is a test used to help diagnose COPD, and, to monitor the severity of the condition as the disease progresses. The HSE is launching an educational video to help patients better understand Spirometry, how it works, what to expect and what the results of Spirometry mean.
People with a diagnosis of COPD who are interested in joining the Limerick COPD Support Group can contact Marie on 061 304464 (after 6pm).
As well as providing a support network, the group had prior to the pandemic organised exercise classes which are important in staying well and preventing exacerbations of COPD. Carmel said the group were looking forward to the eventual further easing of restrictions that would allow such organised sessions to resume.
The Limerick COPD Support Group has continued to stay in touch through WhatsApp throughout the pandemic and has also used Zoom to work with COPD support groups in Clare and Tipperary on the SingStrong initiative, led by Dr Roisin Cahalane, Physiotherapy Lecturer at the University of Limerick. This community-based singing and breathing project has helped keep participants healthy as well as provided a social outlet during a difficult time.
Staff across UL Hospitals Group and HSE Mid West Community Healthcare have also adapted to the pandemic, working with national colleagues to move exercise and education sessions online during the restrictions. In recent weeks, the pulmonary rehabilitation programmes at UHL, Nenagh and Ennis hospitals have resumed face-to-face exercise classes for COPD patients.
Maire Curran, Senior Respiratory Physiotherapist, Integrated Care, HSE Mid West Community Healthcare said: "It is great to have these exercise programmes back up and running and the plan for the new year is to move Pulmonary Rehabilitation into community settings, which means these classes will be run closer to patients in their own communities."
Paula Ryan, Advanced Nurse Practitioner, Respiratory, UL Hospitals Group, said: "Awareness events like World COPD Day are important not only in empowering patients but also around disease prevention. The respiratory nurse team here in UHL encourage patients to stop smoking and vaping and to be more aware of harmful behaviours, by increasing awareness of COPD and stopping the progression of the disease through earlier diagnosis. The respiratory nurses advocate to support patients to reduce the demands on our service going forward. This will be helped through new positions being created in the community as we move towards an integrated care model."
Dr Desmond Murphy, HSE National Clinical Lead for Respiratory explains: "COPD is a disease resulting from damage to the lungs most commonly by cigarette smoke. This damage to the airways can result in shortness of breath and tiredness because the affected person has to work harder to breathe. In addition, patients with COPD are more susceptible to getting chest infections.
"The most common symptoms of COPD symptoms are shortness of breath, sputum/phlegm production and cough.  These symptoms are often under-reported by patients, which may contribute to the under-diagnosis of the condition.
A suite of COPD self-management tools are available for patients on HSE websites as well as COPD Support Ireland.
https://www.hse.ie/eng/health/hl/living/copd/  https://www.hse.ie/eng/about/who/cspd/ncps/copd/resources/
https://www.hse.ie/eng/about/who/cspd/ncps/copd/resources/video-based-pulmonary-rehabilitation-education-support-programme.html
For further information and support, please discuss with your physician if there is a local Respiratory Care community team available for you to access. The national COPD Advice line can be contacted on  1800 83 21 46.