SINGER, songwriter and guitarist Síomha has released her new single and video 'Spéir Rua'. It is the first track to be lifted from her forthcoming album 'Infinite Space' (out next year) and the County Clare native will perform the record live with a full band at Dolans on Thursday November 25.
Spéir Rua is a sultry jazz influenced tune and a love poem to the wild coast of West Clare. The song ebbs and flows over an organic percussive rhythm then swells into a funky groove 
The inspiration for the song came from Síomha's memories of living near Doolin.
"It was inspired by many late night drives after gigs when I lived right on the West Coast at the edge of The Burren. As I got closer to home, I was lucky to witness the beautiful red blaze of the morning sky. Nature was giving her best performance and in those moments it felt as though I was the only spectator. I would stop and sit alone and watch the night sky light up and become a new day."  

Síomha ran a crowdfunding campaign at the end of 2018 to help raise funds for the record. Limerick native Martin Atkinson Borrull is Síomha's long term musical collaborator.
"We finished the record in September. We spent two years working on the record. We were in the US for three months in 2019.
"I'm lucky to have Martin Atkinson who has been with me along this whole journey of making the record. He is also musical director for this tour. Martin is just a wonderful musician and he's been great to pull together the band and to oversee the rehearsals."
The album was recorded in Ann Arbor, Michigan, and produced by Grammy nominated Tyler Duncan (Carly Rae Jepsen/ Theo Katzman). 
Siomha met Tyler Duncan (founding member of The Olllam) in 2018 when she was invited to tour with the American-Irish group.
Tyler is also a producer and that opened the door for Siomha to travel to the US and record in his studios in Michigan.
"I've been a huge fan of a lot of the records that he's produced."
Though Tyler has no direct Irish background, he has an interesting Irish connection, he holds a couple of All Ireland titles in the uilleann pipes and the bodhrán.
"When he was about 12, he watched a video of Riverdance, and became completely fascinated by the uilleann pipes. He started learning the instrument with a teacher in Detroit, and eventually he travelled over to Ireland so that he could learn with John McSherry and a couple of other pipers.
"He started entering the Fleadh Cheoil. He has been coming to Ireland for a long time and he understands our culture and our music."
The new album is called 'Infinite Space' and features an all-star lineup of musicians including Joe Dart (Vulfpeck), Martin Atkinson, Michael Shimmin (the olllam), Louis Cato (Bobby McFerrin/ Snarky Puppy) and violinist Jeremy Kittel (Bela Fleck/ Chris Thile).
"We were working six days a week for three months in Tyler's studio so it was very full on. We were able to explore avenues, go down a particular road with a particular idea or song."
The recordings were made while playing collaboratively and live in the studio. Drummer Louis Cato came up with the idea of creating the rhythm track for Spéir Rua by drumming a beat on Siomha's acoustic guitar, which gives the track a wonderful soft groove to build from.
"I suppose that's really where Tyler's role comes in. He understands how to allow space for the magic moments to happen in the studio."
Spéir Rua is a fine calling card for the upcoming album that Siomha describes as quite expansive in its ideas. 
"The album has elements of folk, elements of jazz, elements of pop, and so, it's quite different."
One constant throughout this process is, of course, Limerick based musical teammate Martin Atkinson who has helped steer the ship these
last few years building up to the release of 'Infinite Space' and is very much looking forward to showcasing this project to his home crew.
"We have an amazing musical dynamic and his contribution to this album has been immense. It was 2018 when we last played in Dolan's and are extremely excited to get back there for this tour."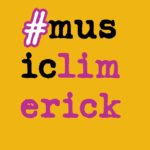 MusicLimerick – New Music Favourites is a Spotify playlist of some of the fine music being produced by Limerick artists over the last 12 months.
Follow the playlist HERE