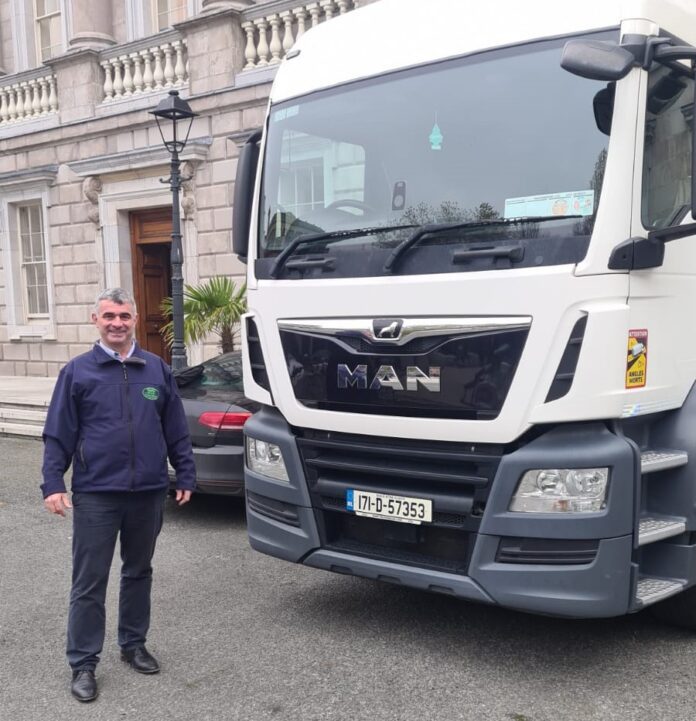 by Alan Jacques
RURAL Independent TD Richard O'Donoghue drove to the door of Dáil Éireann in the cab of an articulated lorry on Tuesday to warn that hard-pressed motorists are facing another "Government-imposed" fuel hike from January 1.
Supporting this week's protest rally to Dáil Éireann by hauliers over rising fuel costs, the County Limerick politician called for an immediate halving of excise duty on all motor fuels until the end of 2022. This, he believes, will help lessen hardship on car owners due to recent massive spikes in pump prices.
With the price of petrol and diesel now at record highs, O'Donoghue has criticised the imminent further rise in fuel prices due at the start of next year.
"This will come about through Green Minister Eamon Ryan's 'Energy Efficiency Obligation Scheme' and 'Biofuels Obligation Scheme,' with these leading to another three cents extra on the already crippling price per litre," he claimed.
"Carbon Tax is already crippling motorists, and it now stands at over €40 per tonne. It really is having a profound impact on all rural residents, who have no alternative but to use their cars to commute to work and bring their children to school across county Limerick. We, in the country areas, are disproportionately affected with only very limited access to public transport and alternative fuel sources."
Deputy O'Donoghue also highlighted that for every single litre of fuel sold, the Government is collecting more than one euro in taxes.
"It is bitterly unfair and deeply hypocritical for the Government to lecture the public on using green energy sources, while at the same time benefiting from increased tax revenue from traditional fuels.
"For example, the 30 percent increase in petrol at the pumps since March means the Government now takes another 12 cents per litre to bring their take to north of a euro, which is soul-destroying to so many of us in Rural Ireland," he concluded.