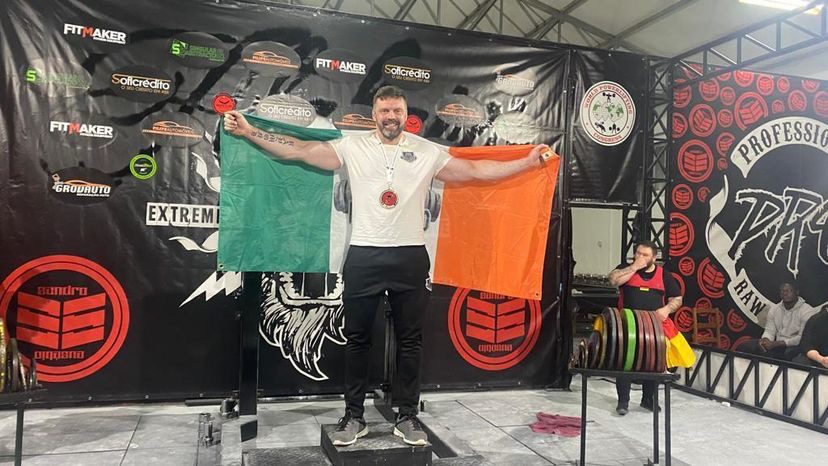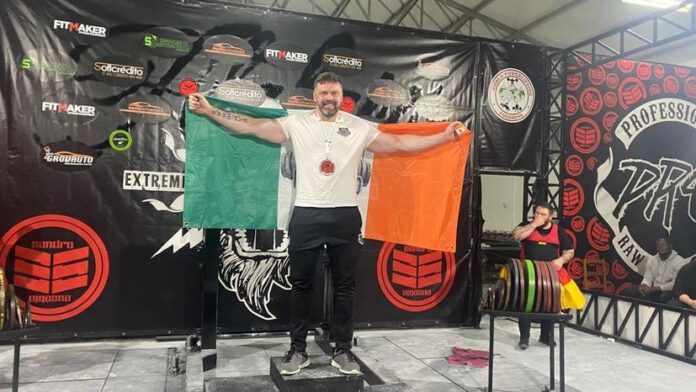 LIMERICK native Ray Foley swept his division at the World Powerlifting Championships in Portugal, taking home both the overall medal in his division and another for the heaviest bench press.
Ray Foley is now double World Champion in the sport of Powerlifting after he took home two medals from the WPC championships in Portugal earlier this month. However the lead up to Foley's success was anything but smooth and predictable, with the same going for the competition itself when he arrived.
Before travelling to Portugal, Foley underwent an eight-week training programme in order to prepare for the toll the World Championships would take on his body. The regime outlined exact specifications for both his training and diet, which Foley followed religiously.
However, Foley would be denied the opportunity to complete the preparation programme as he fell ill with salmonella poisoning, leaving him just two weeks of preparation time left before he was due to compete at the world championships.
When Foley recovered from his illness, the worst was yet to come, as Foley would have to exceed all three of his personal bests in benchpress, deadlift and squat, in order to have a shot at winning his division, which was the 125kg M40+.
"It was mentally and physically draining, I've never come across punishment like that before in my life.

"When I got over there it got so real, I couldn't sleep, I was pacing the hallway, it was constantly on my mind."

Foley describing his nerves before the competition.
Foley embarked to Portugal not just with the goal of winning a world championship medal, but to beat his overall Irish powerlifting record.
The winners of powerlifting competitions are decided using an accumulative number, meaning that the grand total of kilograms of the heaviest successful attempt lifted across all three events are added together and presented as a total score.
Foley achieved a 270kg squat, a 190kg bench press and a whopping 310kg deadlift, making his accumulative score an incredible 770kgs, smashing the Irish record of 745kgs which he himself had set.
With a total of 160 athletes competing across all divisions, many of Foley's lifts wouldn't take place until the early hours of the morning, resulting in him foregoing sleep between events due to the unpredictability of when the event's relative to him would take place.
It was 2:00am in Portugal before Foley got the chance to showcase his strength on the bench, a chance he was determined not to waste.
"It was 190 kilos, I was willing to go to 200 kilos but only for my body being so tired I wasn't going to chance it, I didn't want to tear a pec or a bicep or anything.

"With 190 I was ahead, the next guy failed at 180 and the rest of the guys were too far behind because they were all lifting the night before as well and they were tired too so 190 won it for me.

"I've got the biggest bench in the world for 2021 in my category."
Foley did anything but cruise toward a World Championship title, and due to his illness in the weeks leading up to the competition, he was at risk of falling out of contention after a pair of failed attempts in the squat, perhaps the most gruelling lift within the tournament.
But Foley's final attempt at 270 kilograms did not only put him at the top of his division, but give him an overall lead that his opponents would be simply unable to match.
"I failed my first two squats, so I only had one squat left in order to get through and if I didn't get that squat I was gone.

"I went down for the their one and I stood at the bar and I could hear everyone cheering me on, I just said to myself 'man, lets do this'."

The three lights went green and there were tears in my eyes, I'll be honest about it. It was emotional."

Foley on his title winning squat.
Now with two World Championship medals and one National medal around his neck, Foley has no intentions on slowing down. With lofty goals set for 2022, the Powerlifter hopes to come back to the World Championships even stronger, setting his sights on a 200kg benchpress and a world record breaking 322.5kg deadlift.
Goals that he is already close to reaching.
Foley also hopes to compete in his first pro card event in June of next year, where lifters from all over the world will descend on Limerick to compete for a cash prize.
Foley also has his sights set on winning a European Championship medal in Hungary next September, the only medal missing from Foley's mantle.
"I've one national medal and two world medals but I want a European medal.

I wanna tick the box and take one of those"
Since returning home from the WPC in Portugal, Foley has received a wealth of congratulatory messages and gestures in his locality in Limerick, highlighting his immense pride at the well wishes.
And after a hectic period, he is set to take a few weeks off over Christmas before he gets back into the training regime.
Watch the full interview with Ray Foley below!
The post WATCH | World Powerlifting Champion Ray Foley on his WPC win, breaking his national record and his goals for the future appeared first on Sporting Limerick.