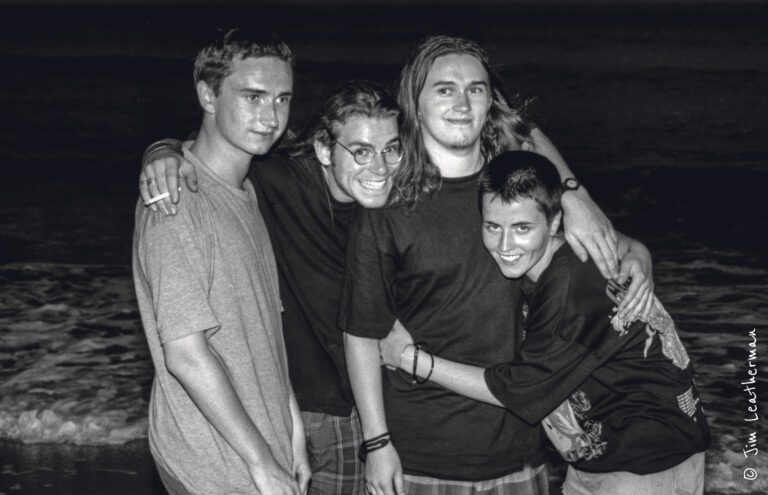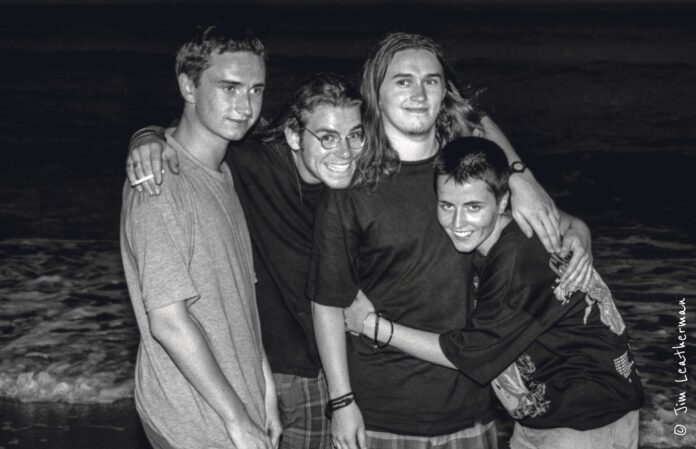 It will be the fourth anniversary of the passing of Dolores O'Riordan this Saturday January 15, Eric FitzGerald spoke to Stuart Clark, curator of WHY CAN'T WE, a new book on The Cranberries
WHY CAN'T WE? – The Story Of The Cranberries is a labour of much love and a, "love letter to Limerick," says Stuart Clark, Deputy Editor of Hot Press Magazine and curator of the first career-spanning book on the iconic Irish rock stars produced by the music and culture magazine.
Stuart Clark lived and worked in Limerick as a journalist and radio presenter in the late 1980's before taking up his role in Hot Press Magazine, so he was on the ground to witness The Cranberries in their formative years. Even when the band wasn't doing interviews, Dolores was always happy to talk to Stuart.
According to Noel Hogan the journalist was involved with the band from the outset.
"Stuart Clark wrote the first press release that we ever did, as The Cranberry Saw Us, so it's great to see his name on an absolutely brilliant, blow-by-blow account of the incredible adventure we embarked on, all those years ago."
WHY CAN'T WE? – The Story Of The Cranberries tells the story in an episodic way as it unfolds in real time through the many interviews with The Cranberries published by Hot Press.
As Covid-19 put live music on hold in 2020, it also afforded some time for Stuart to curate this project.
"The whole world went crazy and I was sitting in an empty office with Niall Stokes (Editor). He was looking at me and I was looking at him and Niall said, Look, whatever happens, we will keep the magazine going"
"We had already done books on Rory Gallagher and Thin Lizzy and U2.
"In lock down, people were cherishing music and The Cranberries struck a chord when Irish Women in Harmony had a big hit with Dreams."
The magazine has a wealth of archive material on the band, but they wanted to contextualise it.
The book has up to date contributions from Stephen Street, Andy Rourke, Michael Stipe, Simon LeBon, 'Linger' video director Melodie McDaniel and Dolores' boyfriend and collaborator in the band D.A.R.K., Olé Koretsky.
The band members and the O'Riordan family were thrilled to take part.
"We wanted this to be a real tribute not just to her, but to them. I'm not sure they are quite ready yet to do the autobiography, which they will do in the fullness of time.
Knowing the lads as I did, I thought it'd be something they'd be into and they really did embrace it."
Because Dolores is such an open and honest interviewee, the material in the book makes for fascinating reading.
"There's very few artists around today who are as unvarnished and honest, as Dolores was.
"I was looking back at the interviews going, oh my goodness with all the media training and, you know, the fears of social media pile-ons today, she was extremely honest.
"I think that perhaps it was a trust thing and one of the things that I loved about Dolores."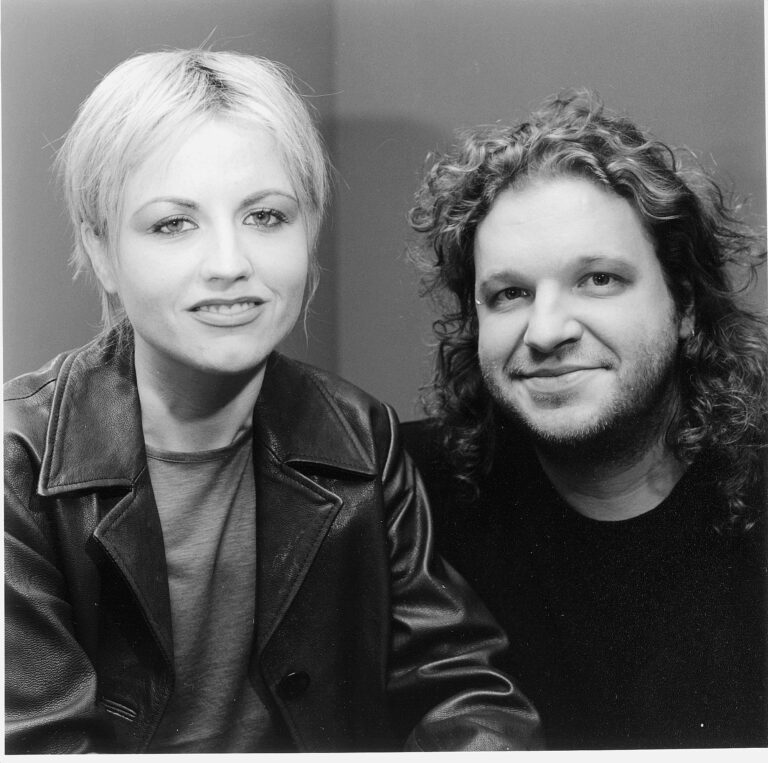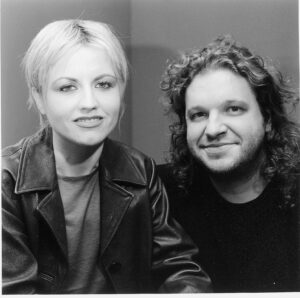 The Early Days
While presenting a rock show on Radio Limerick One and writing the Entertainments pages for The Limerick Tribune, Stuart was familiar with the bands playing the city venues in the early 1990s. He was at a show where the original four-piece played featuring Niall Quinn (The Hitchers) then called The Cranberry Saw Us
"I had seen them in Cruises, maybe supporting The Stunning. I thought they were a pretty decent sort of Smiths-like jangly indie band.
"Noel Hogan mentioned The Smiths playing the Savoy as being the moment when loads and loads of young Limerick musos were inspired to start a band."
Stuart first heard of Dolores O'Riordan when she was auditioning to join the band.
"I remember being told that she does a very good Ave Maria in the choir."
"Then turning up in the pink tracksuit with her keyboard and flooring the guys with her version of 'Nothing Compares To U'"
It was still early days for the O'Riordan fronted version of the band and she was very shy on stage.
"There was something there. But she was so nervous, staring at the floor, staring at the ceiling, anywhere but the audience."
"It was Pierce Gilmore, who I have to credit, saw something there and invited the band up to Xeric Studios during the summer to do rehearsals in the morning and get a recording down in the afternoon."
The moment that Stuart realised that something very special was brewing for the band was when he and two other local journalists, Shane Foley (Limerick Leader) and Kevin Barry (Limerick Post) were invited to visit Xeric Studios to hear the band.
"We went to that little private concert and she came on and just looked into the eyes and played almost half the first album."
"Then each demo tape was a quantum leap, there might be three months between them.
They got to a whole other level."

The debut album

By chance Stuart was on the same flight from Heathrow that carried so many record company A&R people to Limerick to sign The Cranberries who were playing a show at The Jetland Centre for University of Limerick Rag Week.
"It was just ridiculous. It was like boys out on a school outing. Island Records won the battle with Denny Cordell striking a chord with them.
"Though we all thought the album was great, it just tanked at first!
"And again famously they were in Austria, enjoying, you know, a last holiday, as they put it before being dropped, when the phone call came from New York."
At that point MTV had picked up on the single 'Linger'. Then came the US touring where the band initially supported Suede pulling bigger audience numbers as their popularity soared.
Then the band finally returned to Limerick as the all-conquering heroes for a show in the Theatre Royal.
"In Limerick, we couldn't believe it because unfortunately, you didn't really expect it."
"We've always had some fantastic bands in Limerick but nobody ever gave them a mention and I just don't think there was any sort of belief that it can be done by a Limerick band."
As curator, Stuart had to delve back into all the interviews done with Dolores and the band over the years. Did he get a new perspective on what it was like for this band going from teenagers to adults?
"The arc became very apparent. I was fortunate I got to interview and actually socialise on one bizarre occasion with Amy Winehouse. There were almost eerie parallels.
"I think at first you are the proverbial kid at Christmas, you with your mates.
"And you get a phone call and you go to the States, all this kind of craic and it's like, Oh my god, MTV!, everyone's dream.
"And it's brilliant because you know, you're young, you're bulletproof. You could work 25 hours a day, eight days a week, and get up in the morning."
"Then there comes the time when they are doing all these amazing things but they are a bit tired and missing home. And then it was suddenly Dolores saying – "I'm a prisoner in my hotel room.""
"We sometimes forget that they were big in Ireland but they were mega stars in America and mega stars in France, Italy and Spain.
"I mean, half the orders for the large format of this book came from Mexico."
"One of the great things about The Cranberries was people connected with their lyrics.
"Dolores didn't profess to be Bob Dylan, but she had the ability to capture quite sophisticated emotions in fairly simple verses.
"I don't mean that in any way derogatory, but she was great at expressing complex emotions in the song.
"People didn't just want to talk to her, they wanted to tell her their story and get a hug and they might want her to cry. She spoke to me about the enormous pressure she was under.
"She wanted to be there for those fans, but you couldn't take on the heartbreak and the aspirations of thousands.
"So she basically ended up going from the gig to a hotel room and obviously that is not very good for your spiritual needs and your mental health. And, again, you know, she was very honest in those interviews about how she struggled."
The final album
After the tragic passing of Dolores on January 15, 2018 the band released their final album 'In The End', produced by Stephen Street from the wealth of material the songwriter had recorded in the previous months.
"Noel actually said it was a perfect bookend for various reasons.
"It seemed like in the early days, he couldn't keep up with her.
"Musically she was on fire. She was just recording and recording in the home studio.
"Stephen Street said that in a way she, sort of, went back a little bit to the first album.
"Rather than writing about issues, she started writing about life and love and family.
"So getting that Grammy nomination, I don't think that was just the Grammy people being nice. I really think it's one of their best records."
Now looking back over their career with this new book with so many contributions from family and friends and a collection of never seen before photographs. What was it that made The Cranberries different and world renowned?
"The Cranberries had that indefinable quality, if you could define it then anyone could do it.
"I mean everyone will obviously look at Dolores and Noel as the songwriters but would they have made it without Fergal? Probably not, as Fergal was the perfect drummer for The Cranberries and Mike was the perfect bass player."
"Producer Stephen Street said if you had four Damon Albarns, Blur would be a nightmare and just wouldn't work."
"Even from the recording dynamic, it's your musical ability 100% but compatibility and just that ability to give each other space, to give each other encouragement, sometimes the band just feels right and you can't put your finger on it."
"They had chemistry and of course Dolores had this talent for songwriting.
I think it's amazing that the first song she wrote was 'Linger', I mean, it's just mad!"
"I still think that debut album is almost a perfect teenage album.
"It's just a beautifully literate teenage record."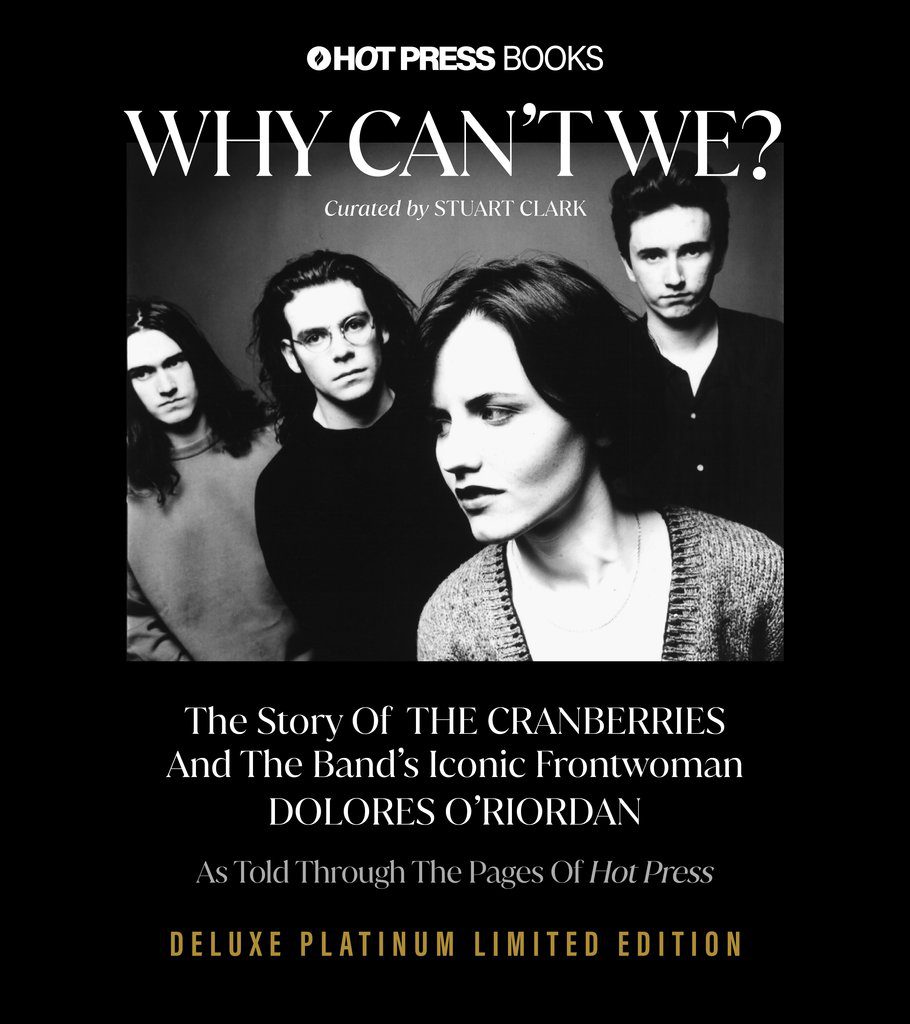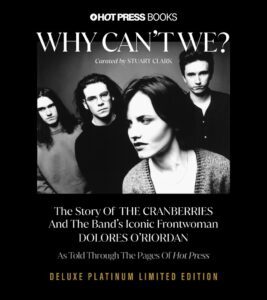 WHY CAN'T WE? – The Story Of The Cranberries is available in O'Mahony's Bookstore, O'Connell Street, Limerick. It is also available online from hotpress.com/shop