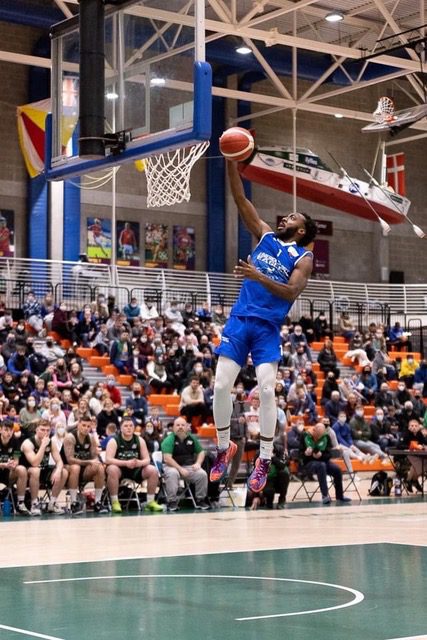 LIMERICK Sport Eagles took on the Limerick Celtics in a derby match in the National Basketball league first division on Friday.
Last Friday in the the UL Arena an exciting game between Limerick Celtics and Limerick Sport Eagles was played out in the first division of the National Basketball League.
The Sport Eagles drew level on points with table toppers UCC with the 94-84 victory, their second over their Limerick rivals this year.
The Eagles came into this game firmly holding second position in the league table with just one loss so far this season. Celtics were in fourth position in the league table having sustained three losses so far this season.
Eagles had taken both the home and away local derby fixtures in the previous season and had also taken the away fixture in Celtics home court earlier this season on a score line of 105-99.
Celtics came out to a roaring start hitting five 3-pointers in the first quarter. The Eagles tried to dig their heels in but the first quarter belonged to the visitors who led 35-22.
The Eagles settled down and got themselves into the game during the second quarter, but the Celtics kept raining in 3-pointers adding another four in this quarter. Eagles were a better side in this quarter, but the Celtics were still firmly in the drivers seat at halftime on a score line of 57–45.
But the hosts emerged for the second half a different team and within minutes it was game on again. But the Celtics held their composure, hitting buckets at crucial times to take a ten point lead into the final quarter.
The Celtics had been firmly in control the entire game and it was basket for basket early in the quarter, but the Eagles upped the tempo and November Player of the Month Manny Payton levelled with two free throws at 80-80.
With this new found momentum the Eagles took the lead for the first time in the game with Daniel Ajuka hitting a huge three pointer.
The Celtics kept the home side in their sights but rookie Reece Barry hit the most important shot of the game. His three pointer helped keep the Celtics at bay. It was left to cousins Jack Coyne and Steve King to tidy things up on the free throw line.
That was enough for the Eagles to take the win and the bragging rights for another season on a score line of 94-84.
The post Eagles take the bragging rights with win over Celtics in Limerick derby appeared first on Sporting Limerick.