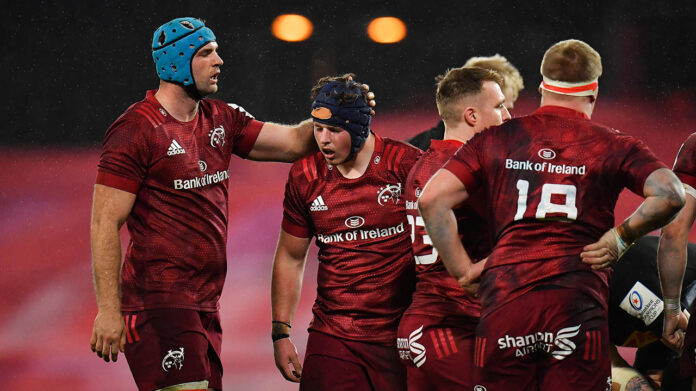 YOUNG Munster's Josh Wycherley gives his insight into his transition into the Munster squad ahead of this weekends match up against the Dragons
Wycherley has only worn the red jersey a mere six times and just two of them were starts. The young prop had a game to remember against Clermont, getting dominated early by seasoned tighthead Rabah Slimani but was able to adjust himself and very quickly began to dominate the French international.
Unfortunately Wycherley has been cursed with injuries since this game and hasn't been able to get into the squad for some time. Munster forwards coach Graham Rowntree highly praised the Bantry man referring especially to his good attitude both on and off the pitch.
Here's what Wycherley says: of his transition to the senior side,
"To be honest I kind of think that it's been a bit easier than other years being with the seniors so much. Even in my last year of the academy, was kind of an easier transition given we were training with the seniors so much. We were training at that level so I think that transition was a little bit easier and you get to know the lads a lot better.
"After a period of time, you see those hours that you put in come to the front and then you get your chances.
"Since coming through the academy and working with Graham closely, he's helped me come on leaps and bounds, he's helped the whole forward pack in terms of our scrum detail, in around close to the line, in our twenty two detail and stuff like that. I think he's been a great person aswell to just bring a different kind of energy about the place. "
The post WATCH | Josh Wycherley is "chomping at the bit" ahead of first start for Munster since prolonged injury appeared first on Sporting Limerick.