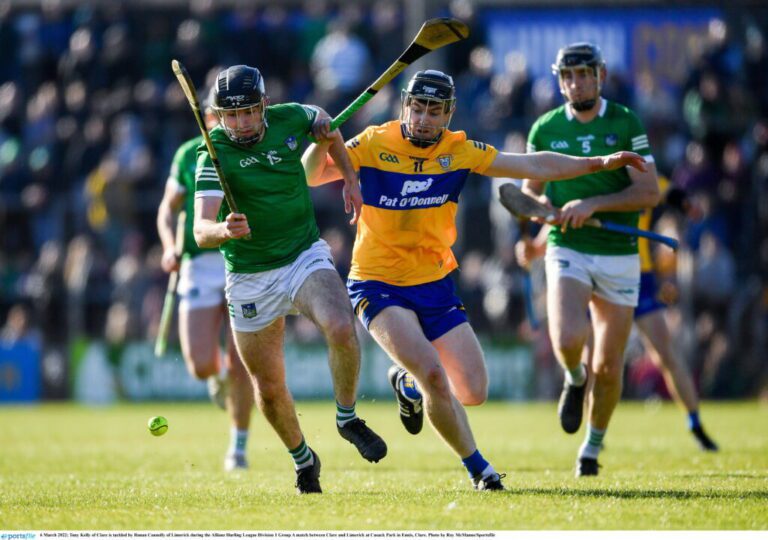 A much improved Limerick got their first points on the board in their League campaign with a 0-18 to 0-18 draw with Clare.
This finally puts an end to John Kiely men's run of three successive defeats. Limerick were three points to the good at the half with the visitors taking advantage of Clare's indiscipline with Aaron Gillane knocking over a number of frees.
After Kelly levelled terms 20 minutes from time, both sides were all square four more times.
With four minutes to go, Gillane saw red for a second bookable offence. Three minutes later, Clare were also reduced to 14 when Jack Browne also was sent to the sideline after two yellow cards.
Deep into stoppage time, David Reidy levelled the sides – 0-18 apiece – to earn Limerick a well-deserved point.
Reflecting on the result, John Kiely said he was content with the draw but more importantly with the performance and attitude of his side.
"Listen, with fifteen minutes to go I'd have taken the draw. The momentum seemed to have swung in Clare's favour at that stage and were were struggling. To be fair I think we finished very very strong in the last quarter but we didn't covert it on the scoreboard. We struggled just to get those frees that we had won over the bar. Very happy with the final quarter. It was a much improved performance, our attitude was way way better."
"They will get plenty of minutes into the legs in the next number of weeks but we move on. We have one more game left in the League, we will take that extremely seriously next weekend and we will go and try get a result next weekend. We will try to get another improved performance on the back of today's improvement."
Kiely was asked about his side this weekend that consisted of eight changes and twelve all-stars. He was also asked about his side's apparent "rustiness" after the first four games of the season.
"I wouldn't say rustiness do you think I wouldn't say rusty as such trying to find flow at times you know. We are making a number of errors, drop balls you know you can see that yourself. Ball this going to hand is not retained and maybe you know simple things like the pickups. It's basic things but listen that will come with more training you know. That touch will come, that sharpness will come so we can keep working on that, that is manageable."
Limerick's discipline has been called into question again with Kiely's side reduced to 14-men for the third consecutive game. This time around Aaron Gillane received two yellow cards, the second following a wild swing on Conor Cleary. Discussing the incident, Kiely said,
" I think there was nothing in it, that was ridiculous. Had the referee ran and told the player to get up off the ground and get on with it I think would have been more appropriate. I don't think that was a serious misdemeanour at all.
" My focus is solely on my team and how we are playing, we have refs coming out every week doing what they are doing. I think its part and parcel of the fact that we are going to be disappointed sometimes by whatever decisions are being made out there. For me at the moment my focus is solely on us and our performance levels and getting that right. The officials can deal with anything that needs to be done but I'm not concerned about it."
Limerick play their final league game against Offaly at the TUS Gaelic Grounds on March the 20th.
Listen to Kiely's full thoughts here
The post WATCH | "It was a much improved performance" John Kiely speaks after Limerick's draw to Clare in Ennis appeared first on Sporting Limerick.