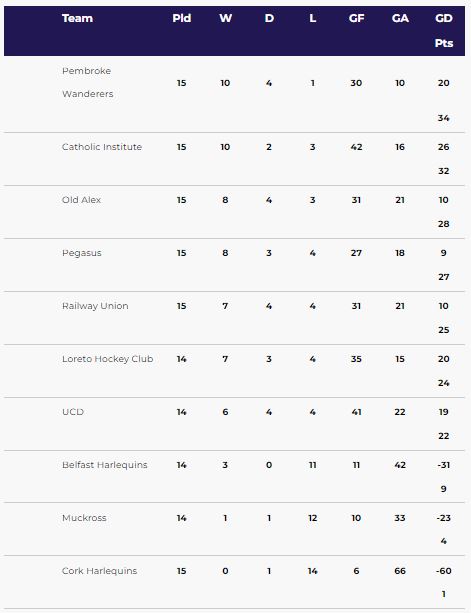 THE Limerick side were in action twice over the weekend.
Catholic Institute have cut the gap to Pembroke at the top of the EYHL Women's after a mixed weekend of results.
The Limerick side defeated Pegasus 1-0 on Saturday to further close the gap with a game in hand. However, the following day they were beaten on the road to Railway Union as Pembroke maintained their place t the summit of the table.
On Saturday, at home to Pegasus, Insta were made to work for a sixth successive win against the dogged visitors.
The crucial moment came when Hannah Kelly blocked a clearance, with Kelly finding Roisin Upton who played in Naoimi Carroll who continued her fine scoring form.
And despite huge pressure from the away side, Catholic Institute held on for the win which meant a similar result the following day would see them go top.
However, Railway Union, who held Pembroke the previous day, were able to upset the odds for the second consecutive day, with a 3-2 win over Insta.
With a chance to move to the top of the table for the first time on offer, Insta started well with Jenny Cleine goaling early on.
But Railway responded in style with three goals that had them 3-1 to the good in the third quarter.
Aebhfhinn Bourke hit back for the Limerick side in the 65th minute but Railway held on for the win.
Nonetheless, Catholic Institute still have the fate of the League in their hands. If they win their remaining three games then they will be crowned champions. However, Pembroke are in the the same position with the two sides meeting on March 19 which could be a winner takes all contest.
Women's EYHL Division One Round 14 Results
Catholic Institute 1-0 Pegasus
Pembroke 0-0 Railway Union
Belfast Harlequins 0-2 Loretto
UCD 4-1 Cork Harlequins
Railway Union 3-2 Catholic Institute
Pegasus 2-1 Old Alex
Women's EYHL Division One Round 15 Fixtures
(First team named at home)
Loretto Hockey Club vs Catholic Institute on Saturday the 12th 1.00pm
Muckross vs Pegasus on Saturday 12th at 1.00pm
Railway Union vs UCD on Saturday 12th 1:30pm
Pembroke Wanderers vs Belfast Harlequins on Saturday 12th at 2.00pm
The post Contrasting results for Catholic Institute who close the gap to Pembroke at the summit of the EYHL appeared first on Sporting Limerick.