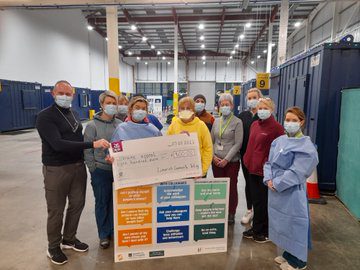 MEDICAL and related supplies have arrived in at the Ukraine border from Limerick, following donations, thanks to the "Help for Ukraine" campaign. 
The campaign was organised by Polish native Anna Mazeika and is backed by Limerick City and County Council, University of Limerick and Limerick Twenty Thirty.
The supplies arrived Monday 07 March, in Kaowice, Poland, in an articulated lorry and will be transported to hospitals in Ukraine.
Our articulated lorry has arrived in Katowice in Poland. From here it will be transported to Ukraine.

Anna Mazeika flew over last week to make sure all goes according plan. Pictured here proudly flying the #Limerick flag in Katowice. #solidarityWithUkraine #LimerickAndProud pic.twitter.com/T2GRPM8XSz

— Cllr Daniel Butler, Mayor of Limerick (@DanielButlerFG) March 7, 2022
More donations are being made this week in Limerick, with Limerick Community Testing Centre raising €850 at a fundraiser on Monday.
Limerick Community Testing Centre held a fundraiser in aid of the Ukraine Appeal on Monday, raising a total of €850.00.
Well done to all involved and thank you to those who supported! pic.twitter.com/uN5PO018KT

— HSE Mid West Community Healthcare (@CommHealthMW) March 9, 2022
People in Ireland have donated over €1.5 million to GoFundMe campaigns supporting Ukraine, with figures from GoFundMe showing that over 18,000 donations have been made to over 100 campaigns.
Tim Cadogan, CEO of GoFundMe said: "The response from people across Ireland and around the world to support the people of Ukraine has been extraordinary.
GoFundMe's mission is to help people help each other and that's why we're working around the clock to ensure funds get safely, securely and quickly to where they are needed as people step up to help."
Donations to the Ukraine appeal can be made here: Ukraine Crisis Appeal | Irish Red Cross