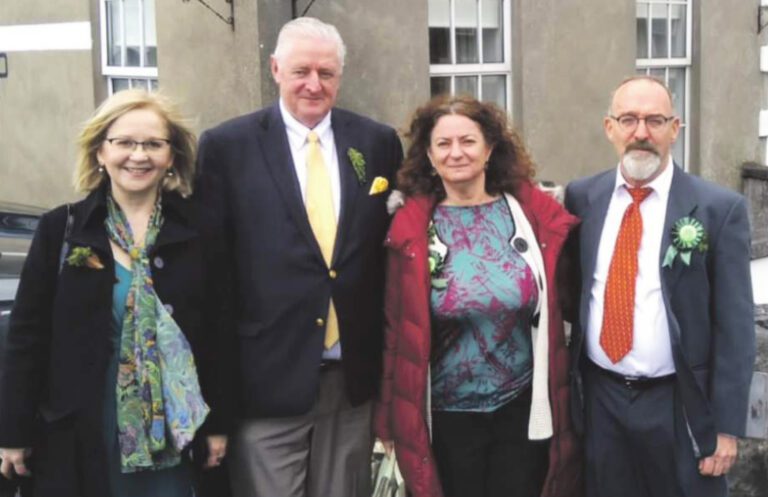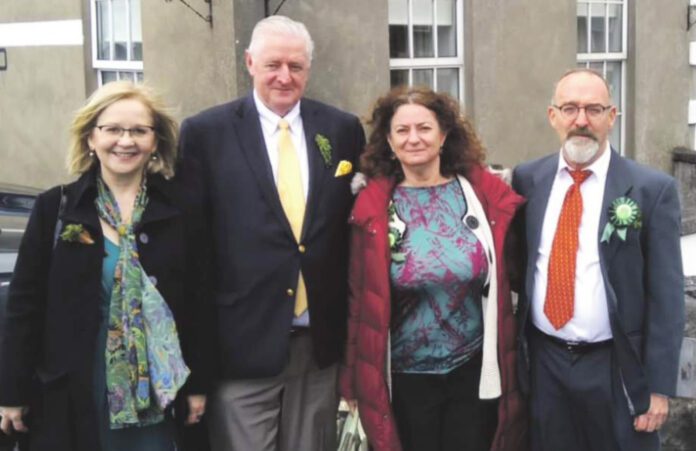 THE presence of the Israeli Ambassador to Ireland, Lironne Bar-Sadeh, among dignitaries in the viewing stand at Limerick's St Patrick's Day parade has been strongly criticised.
Sinn Féin Senator Paul Gavan hit out at Limerick City and County Council for allowing the Israeli Ambassador to be among the invited guests at the St Patrick's Festival, describing it as a "disgraceful decision".
However, when contacted for comment, the Council said that the Israeli Ambassador was a guest of the Polish Ambassador at the Limerick Parade.
Senator Gavan said that the only invitation the Israeli Ambassador should be receiving "is one to leave our State" as Sinn Féin had been calling for her expulsion for some time.
"Israel is an Apartheid State. It has been recognised as such not just by Amnesty International, but by over 450 civil society groups across the world, including courageous Israeli human rights groups like B'tselem.
"I have been to the West Bank in Occupied Palestine and witnessed for myself the appalling treatment meted out to the Palestinian people," Senator Gavan told the Limerick Post.
"In law and in practice Jewish Israelis and Palestinians are treated differently in every aspect of life – housing, education, health, employment, family life, residence and freedom of movement. Segregation is carried out by implementing separate legal regimes for Jewish Israelis and Palestinians living in the same area. In Israel itself citizens are divided into 'national' categories of 'Jewish' or 'Arab'."
In response, a spokesperson for the Israeli Ambassador said the visit was in a private capacity. They also described Senator Gavan's comments as "unsurprising and as usual full of inaccuracy and ignorance".
"Israel is most certainly not an apartheid state. It is a liberal democracy with freedom of speech, press and association. It is the only country in the Middle East that is a real democracy, and the only one with freedom and equality for the LGBTQ community.
"It also has a rigorous, independent judiciary. One fifth of Israel's population are Arab citizens, both Christian and Muslim. The current Israeli government includes Arab ministers.
"In contrast, Hamas which rules Gaza is a dictatorial Islamic terrorist organisation, and the Palestinian Authority which rules much of the West Bank is well known for its corruption and authoritarianism – there has not been a Palestinian general election since 2006.
"Senator Gavan is a manipulator of language, taking a word that signifies the suffering of millions of South Africans, and cynically dishonouring their anguish by using it to promote his own personal agenda. We are sorry that the Irish public must undeservedly count men such as he amongst its representatives."
Cian Prendiville of People Before Profit also hit out at the Israeli Ambassador's visit to Limerick during the St Patrick's Festival.
"The people of Limerick will be very surprised to hear the Israeli ambassador was a guest at the St Patrick's Day festivities. Limerick people have strong solidarity with the people of Palestine, who continue to suffer brutal oppression and discrimination by the Israeli state," Mr Prendiville said.
"We should not be rolling out the red carpet for this brutal regime. Instead, we should be showing our solidarity with the Palestinian people. In previous years, football teams of Palestinian children have visited Limerick, playing against our local teams. Perhaps they could be invited over for next year's festival, to celebrate these important links."
Zoe Lawlor of the Limerick branch of the Ireland Palestine Solidarity Campaign described the Israeli Ambassador's attendance at the parade "extremely disappointing and indeed shocking".
"It is particularly galling that this was in celebration of the theme of 'belonging and identity', when Israel has for decades denied Palestinians the right to belong in their own homeland, in their own homes, and has denied Palestinian refugees their legally guaranteed Right of Return," Ms Lawlor said.
She also described the Israeli Ambassador's attendance in the viewing stand as "a slap in the face of all of us who stand against apartheid and in solidarity with Palestine".
When asked about the Israeli Ambassador's attendance at the Limerick Parade as a guest of Polish Ambassador Anna Sochańska, a spokesperson for the Polish Embassy in Dublin said: "We are not in a position to address the comments regarding the participants of HE Ambassador's private engagements".