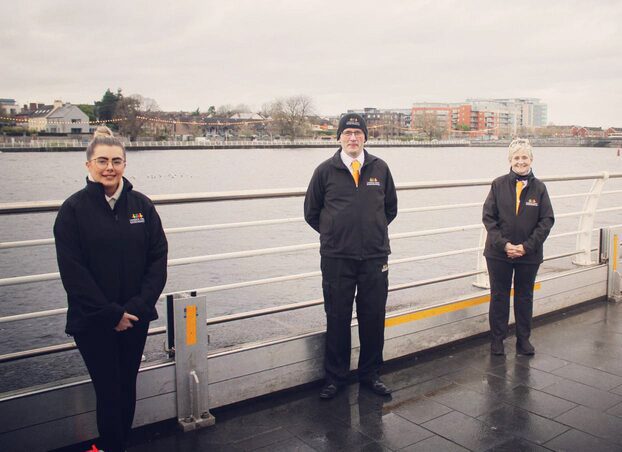 A DEEPLY distressed man who fled the war in Ukraine only to become lost in Limerick City was helped by members of two local voluntary groups.
The man, aged in his 50s, was found last week by the river by members of the Limerick Treaty Suicide Prevention (LTSP) group. He was injured and in a distressed state, with no English, no money and a broken phone.
"He was very frightened. He had no idea where he was,"Josephine Corbett of LTSP told the Limerick Post.
"We put out an appeal on our social media for someone who might be able to interpret and we got a massive response," she said.
Eventually, Calvin Prendergast, chairman of the voluntary Limerick Land Search Team, joined the patrol members at the river and was able to speak to the man in Serbian.
"We found out he had escaped Kyiv and was trying to make his way to Cork where he had relations. He got on a train, but didn't understand that he had to switch trains, and ended up in Limerick," said Josephine.
Josephine and Calvin decided that the best course to help the lost man was to drive him to an address he knew in Dublin where they believed friends or family were staying.
Once they had established what language he spoke, they were able to use a phone translation app to communicate.
"We drove him straight to the address in Tallaght and when he knocked on the door, it was immediately obvious that the people there knew him. He just melted in relief. He couldn't thank us enough," said Josephine.
As a result of the encounter, the patrol team now have a list of contacts for translators who speak many languages, should they need them in the future.
But what LTSP needs most right now is a base to work from. They have joined forces with Limerick Land Search Team and Haven Hub with all three willing to share one base if they can get one.
Currently the patrol members are working out of the back of a van and carrying their equipment in their own cars.
"This just highlights another reason that we need a base. We dressed that man's injuries and spent two hours with him at the side of the river. If we had somewhere to go we could at least have brought him in to sit down and have a cup of tea while we tried to get him sorted," said Josephine.