'JESTEM' is the third single release from dancer/singer-songwriter Dora Gola available now on Spotify. While previous releases including dance ballad 'Dark Sand' and the spritely bopping 'Flying Tree' move the body, Jestem, meaning 'I am' in Polish is a song which moves the emotions.
Dora was born and raised in Poland and has lived in Ireland since she was 16.
Written by Dora and Darragh Keary (producer), the track is an evocative down-tempo lullaby. The polished production features natural soundscapes of water drops, whale whistles and gentle hand drumming and is the first song released by the artist written in both Polish and English.
A music video for 'Jestem' was recorded at the cliffs at Kilkee in Co Clare and will be released on YouTube on April 26.
Dora Gola's album "Dance with Danger" is due September 2022.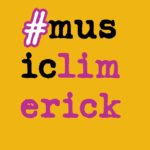 MusicLimerick – New Music Favourites is a Spotify playlist of some of the fine music being produced by Limerick artists over the last 12 months.
Follow the playlist HERE