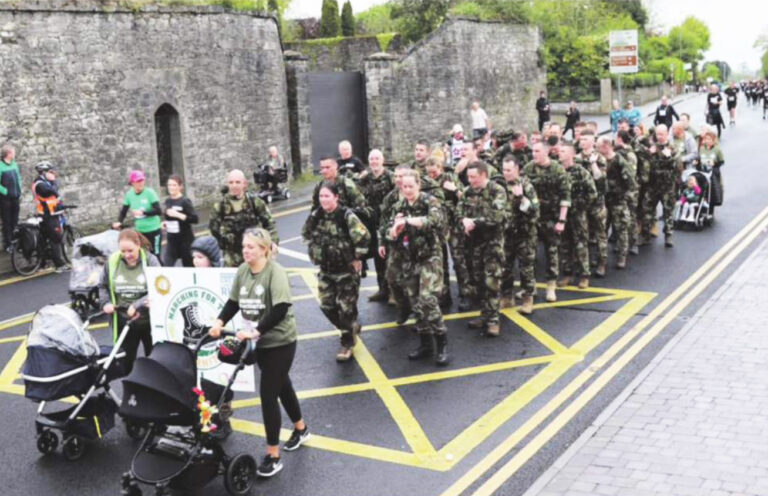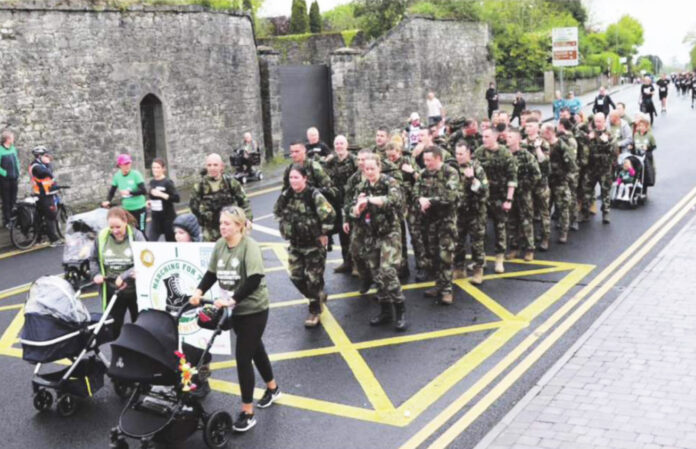 TWO LITTLE Limerick warriors who arrived home to a heroes' welcome joined their families and friends to lead the march across the finish line of the Great Limerick Run.
Baby Daisy, who was born weighing just 1lb at University Maternity Hospital Limerick (UMHL) returned home after 157 days in hospital to join baby Max, who weighed just 2lbs 7ozs when he was born, and their soldier dads to raise €26,000 for two maternity hospitals.
The 'Marching for the Maternities' fundraiser, organised by Lieutenant Jonathan Hughes and Sergeant Eddie O'Brien, who are based at Sarsfield Barracks, Limerick, saw a battalion of soldiers from all over the country signing up to do the 21k march in uniform and carrying equipment weighing 30lbs.

Simultaneously, members of the 119 Infantry Battalion from Sarsfield Barracks serving in the Lebanon joined the fundraiser by completing their own run.
Daisy and Max were both born prematurely at the University Maternity Hospital Limerick and were cared for in the special baby unit there with Daisy being moved to the Neonatal Intensive Care unit in the Coombe in Dublin.
Daisy, Max, their dads, and mums Katherine Keane and Sarah Meek crossed the finish line with Daisy's big brother Jack (10) and cousin, Robin Kelly who completed the Family Run.
They were joined by members of the defence forces from all over the country, the two talented doctors who delivered them and staff of UMHL.
"When we crossed the finish line, they crowd cheered Daisy and Max. Their little spirits are unbelievable. They've battled with so much," Lt Hughes told the Limerick Post.
"We're amazed at the huge support we got and the lovely messages from parents of other premature babies. We're so very grateful to the hospital staff, the people of Limerick and the Defence forces," he said.
"The dedication and care both babies got from staff at the two hospitals is just amazing," he said.
Lt Hughes, who is from St Mary's Park, now living in Dooradoyle, is with the 12th Infantry in Sarsfield Barracks, while Sgt O'Brien from Killaloe is with the Central Medical Unit.
The fund will stay open for the next two weeks for donations. To contribute, log into the 'Marching for the Maternities' fundraiser page on Facebook and follow the link for donations.