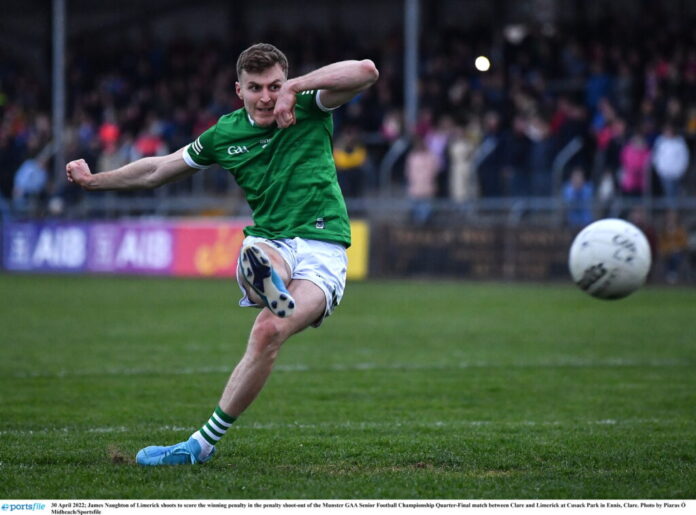 FORMER Limerick Footballer Pa Ranahan looks back on the drama of Limerick's Munster quarter-final victory over Clare as they now prepare for their last four clash with Tipperary on Saturday.
The Limerick footballers have a potentially season defining semi-final clash against Tipperary this weekend as they aim to end a twelve year wait between Munster finals.
Limerick booked passage to the semi-finals by virtue of the first ever penalty shoot out win in the history of the Senior championship in Ennis last month.
With nothing separating the sides after 90 absorbing minutes, James Naughton's penalty brought an end to proceedings with Limerick gaining a first win over the Banner in the championship since 2009.
Former footballer Pa Ranahan was at the game and took great confidence in the demeanour of the players during the lengthy wait between the full time whistle and Iain Corbett's penalty, the first of the shoot out.
"There was such a calmness about it I know there's pictures afterwards and you see Peter Nash laughing, but the body language of them was definitely of a group that felt confident. They were like okay well I know this is a highly pressurized situation, but their body language just looked like a group that we're like okay we're ready for this.
"Then flip side of you've got your goalkeepers like Donal O'Sullivan is a big man inside the goals like if you're a pen attacker walking up from Clare even him standing there he's really touching the crossbar as it is.
"He's covering a lot of the goals and and the Clare goalkeeper on the night I think it was his first championship match how many penalties would he have faced? He wasn't as big, now the penalties from limerick were struck very well. Even if he'd got the right side I wonder would he have saved them, but there was definitely kind of an element of okay Limerick have the players on the field now at this minute that you'd want for the penalty shootout."
The game against Clare was a real testament to how far the football squad have come in terms of quality and togetherness. After five successive victories over the Treaty men, Clare would have been confident in their chances, at home against a side languishing in the lower divisions up until this season.
And with normal time running out, Limerick trailed by one with Clare looking set to advance to the semi-final. But this Limerick side, once more, showed their calmness in possession to muster up a final chance, which they took before eventually overcoming their opponents.
And Ranahan says there is a real maturity in the squad as they look to become the first Limerick side, since the team he was part of in 2010 to reach a Munster decider.
"With the penalties and there was near a calm about limerick in the penalties, there's definitely an air of calm about their play generally when things are going well or not well during the match. They just have that maturity about them now where you're looking at them and there's no panic.
"They hit a purple patch we'll say about 20-25 minutes into the game. They reeled off about 1-2 in or 1-3 three in a row and found themselves five points up and you're like okay this is really strong position now for them.
"A sloppy penalty then just before half time, a big score actually was after the penalty. There was two points in it and limerick kept the ball for about three minutes and worked to free which Josh Ryan kicked over.
"They went into the second the halftime break with with that kind of fill of just scoring a point as well so they're three points up, but you were looking saying okay Clare will have their purple patch and it happened, for a lot of the second half Clare were the dominant team.
"It was just one of those games where both teams had their real purple patches, but the other team was still able to go okay we'll take that punch and we'll try and hit back now. They did it variably so it was a very even match, Clare will probably look back at the chances they missed"
Watch the full Interview with Pa as he looks ahead to the semi-final on Saturday below!
The post Watch | "They just have that maturity about them now" | Pa Ranahan reflects on Limerick's penalty drama as they prepare to face Tipp appeared first on Sporting Limerick.