THIS June Bank Holiday, Limerick welcomes The National, Hermitage Green and Jenny Greene and the RTE Orchestra to Docklands 2022 (June 3-5).
Dolans Presents and Limerick City took a giant leap forward in 2019 with the introduction of Docklands, a 3000 plus capacity marquee on Dock Road hosting headliner shows over the June Bank Holiday weekend.
The first weekend featured Madness, The Coronas and Jenny Green. Madness brought nostalgia and the midwest rudeboys showed up in style. Jenny Greene and the RTE orchestra brought the classic club bangers with a posh makeover and The Coronas rocked the crowd on a wild Sunday night.
The festival was an outstanding success bringing thousands together in a buzzing Limerick City to celebrate the music and the craic. We couldn't wait for the next one, but of course we have had to wait for two years!
Docklands 2022 brings three more headliner gigs, Limerick Post was at the re-launch of the 2022 Live at the Docklands concert series this week.
Mayor of Limerick City and County, Daniel Butler spoke at the launch.
"I am delighted to be here. I have grown up in Dolans, coming to gigs here. We owe a huge debt of gratitude to the Dolan family for what they bring to the city.
"You take on a lot of risk, and a lot of work, I want to thank you for everything that you do."
"I was at Jenny Green's gig, and I'm going again this year. It was an amazing night with an amazing atmosphere."
"We all had the conversations during COVID. You know, I'd love to be at a gig, well, now's your chance to get out and be a gig.
"Over the last couple of weeks Limerick has proven itself that we are an amazing, amazing venue for these kinds of events. Limerick is compact and it is affordable."
"We are coming after the June Bank Holiday Weekend with Docklands 2022 and I believe we can take it."
RTE 2FM DJ JJ Hartigan from Limerick remembers the first Docklands when he performed with his colleague Jenny Greene and the orchestra.
"I can't believe it's been that long since we did the gig in the Docklands. We waited an awful long time for this.
"I have been in RTE 14 years now and I can say with my hand on my heart, that gig in The Docklands was the greatest night of my life working with RTE, it was incredible!"
"If you haven't been to the show with the orchestra, you need to be there on Friday June 3.
It's something so special for music lovers remembering all those tunes. It's an incredible atmosphere. There's 48 people in an orchestra with a conductor shaking his ass the whole night and he will turn around eventually and give you a big wave.
"Speaking to Jenny before I come in this evening, she just really can't wait to be back because it is one of the most special gigs that we've had. And when you put this event into a tent, such as on Docklands, you're obviously not going to get a better night."
Hermitage Green will play their biggest show so far in their career right here in their hometown on Saturday June 4.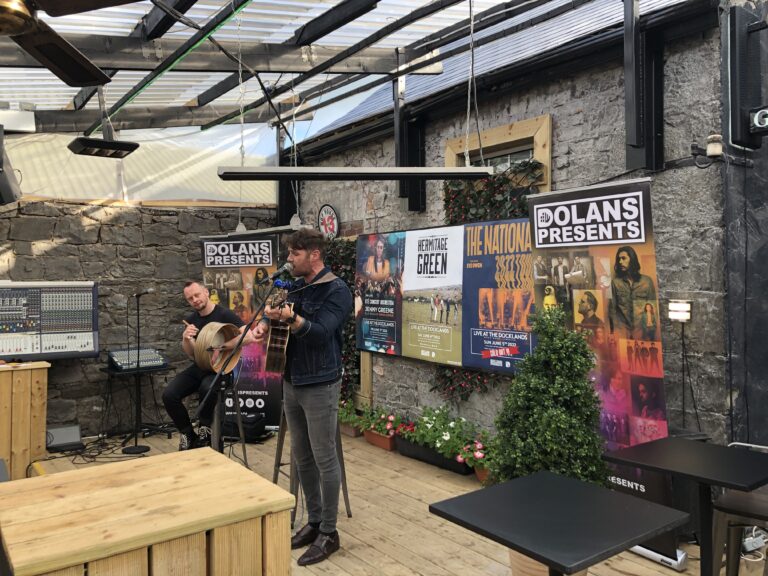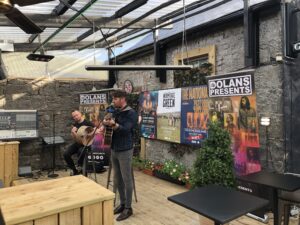 Mick Dolan spoke, "It's brilliant to see them going from where they were to where they are today. They have played every room in this place (Dolans), moved up then to King John's Castle and now onto Docklands.
"That's the way it works and to have them is brilliant. The hunger is there, and the hunger is there for music and you can see it at every gig."
Barry Murphy and Dermot Sheedy from Hermitage Green were in Dolans for the launch and played a track from their current album Hi Generation which came out in September.
Barry commented, "It's been three years since we started planning this as a band. This is the biggest gig we have ever played."
"We do get some people say that King John's Castle gig was an incredible night. And we want to recreate something like that."
Hermitage Green played their first gigs in Dolans playing at the front window in the bar on Monday nights sitting on the windowsill.
"The students would come in and about 10 O'Clock halfway through our gig we'd have to naturally up the tempo of our gigs.
"And then we progressed to Dolan's Warehouse. We never thought we'd ever get a chance to play there and then we got a chance to support Josh Ritter at The Big Top in the market.
"We're saying, wow this is incredible, let's put on our own show there and dream of playing at the castle.
"Having started in The Curragower Bar looking out the window at the castle then to play there three times. You know, we never stopped reminding ourselves of how lucky we are to be able to do that."
"Yeah to come back and play our first proper gig after what we've all been through and to mark the release of our album which came out in September,
"I can't think of a better place to play it than in Docklands 2022 in front of a home crowd."
Docklands 2019 featuring The Coronas. The festival returns on June 3-5. Pic: Shane Serrano
Dermot Sheedy and Barry Murphy (Hermitage Green) at the launch of Docklands 2022