SINEAD O'Brien released her debut album 'Time Bend and Break The Bower' last week via Chess Club Records. Sinead celebrated the new record with a huge gig in Dublin as special guest of Duran Duran at St. Anne's Park. The band are obviously big fans – Simon LeBon stepped on stage before Sinead's show to introduce the Limerick girl and her band Julian Hanson and Oscar Robertson, a wonderful gesture from SLB who is over 40 years at the top of his game.
Sinead says the record is made of "heat, desire, hard places and soft things."
Chess Club Records commented – "Creating at the triangulation of words, music and image, O'Brien has always conjured powerful worlds: but none more powerful, or as immersive, than on her debut record. In the space that exists between her delivery at once wry, silky, vicious, and self-assured – and the music – a dynamic, dancing call-and-response from her collaborators, guitarist Julian Hanson and drummer Oscar Robertson – lies a productive tension. Using a method of creating on-instinct, in constant communication with multisensory cues, O'Brien is carving out a space as a musical oracle for an ever-shifting era."
Sinead O'Brien and band will play Dolan's Warehouse on Saturday October 29.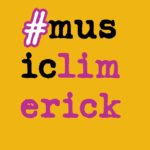 MusicLimerick – New Music Favourites is a Spotify playlist of some of the fine music being produced by Limerick artists over the last 12 months.
Follow the playlist HERE