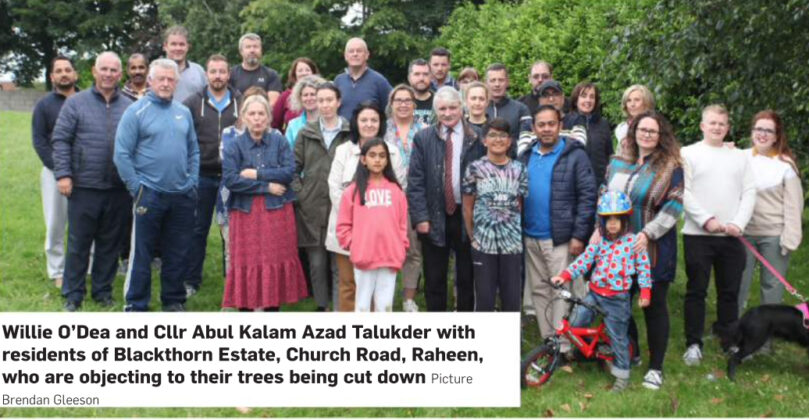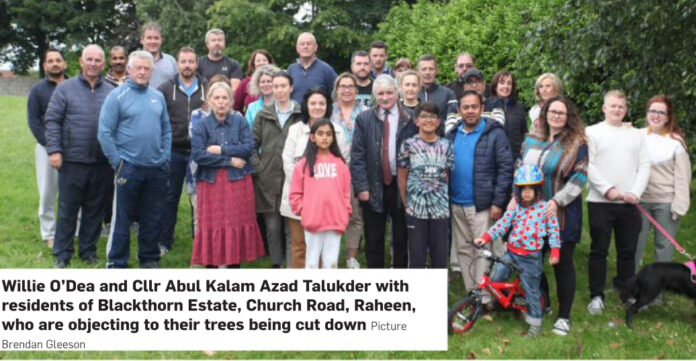 RESIDENTS of a city housing estate claim that plans to remove mature trees and hedgerows to develop a cycle lane will leave them open to the roar of traffic on one of the busiest roads in Limerick.
The owners of the 36 homes at Blackthorn Estate in Raheen say that felling 17 mature trees and 80 metres of laurel hedge will impact on air quality and the local bat and bird population.
"The hedgerows and mature trees that form a barrier between the busy road and our estate protect residents from noise and environmental pollution from heavy traffic in the area," a spokesperson for the residents told the Limerick Post.
"Every day we wake to the sound of busy traffic that lasts into the night, including ambulance sirens going to and from UHL. The noise and air pollution will increase if the proposed plans proceed. The loss of the beautiful mature trees would be a source of great upset to residents."
The spokesperson said that construction in the area, including the development of new schools, has greatly increased volumes of traffic.
Local Fianna Fáil TD Willie O'Dea told the Limerick Post that he is satisfied that residents are "not opposed to the cycle land as such but that they don't like the trajectory."
He says he understands their concerns about the removal of the trees.
"To put it simply, we want to put in cycle lanes to benefit the environment but to do that we're destroying mature trees that provide protection for the environment."
He said that Limerick City and County Council has agreed to meet with residents in the near future to discuss their concerns.
Deputy O'Dea said that the provision of the cycle lane is a planning matter, over which the council has control by way of a vote of elected members.
"If the residents' concerns are not listened to, it could be that the meeting will vote against the provision of the cycle lane and the plan would fall," he suggested.