The series concludes as we recall Limerick's best performance under John Kiely, that unforgettable 2021 All-Ireland final win over Cork.
The top ten of the 30 games played under the Galbally man's management team concludes with arguably the greatest performance of any team ever as Limerick retained their All-Ireland title in style.
---
#1
Limerick 3-32 : 1-22 Cork
All-Ireland Hurling Final | 22 August 2021 in Croke Park Dublin
With words failing the majority in attendance and watching from home, Limerick retained their All-Ireland crown with a performance of a lifetime as they gave a display, the likes of which had never been seen before.
Records tumbled before Kiely's men as racked up the highest score in an All-Ireland final, following on from demolishing the half time record.
In truth the game was finished prior to the interval as it allowed the 40,000 in attendance, the opportunity to bask in this Limerick team's glory.
The writing was on the walls in so many aspects from the throw in as Cian Lynch launched one over from the sideline inside ten seconds. The Patrickswell man would go on to wreak havoc winning man of the match in an awesome display before going on to be crowned Hurler of the Year for the second time.
Cork had the next score but Lynch orchestrated Limerick's first goal with a bit of ingenuity to set Gearoid Hegarty free as he made no mistake.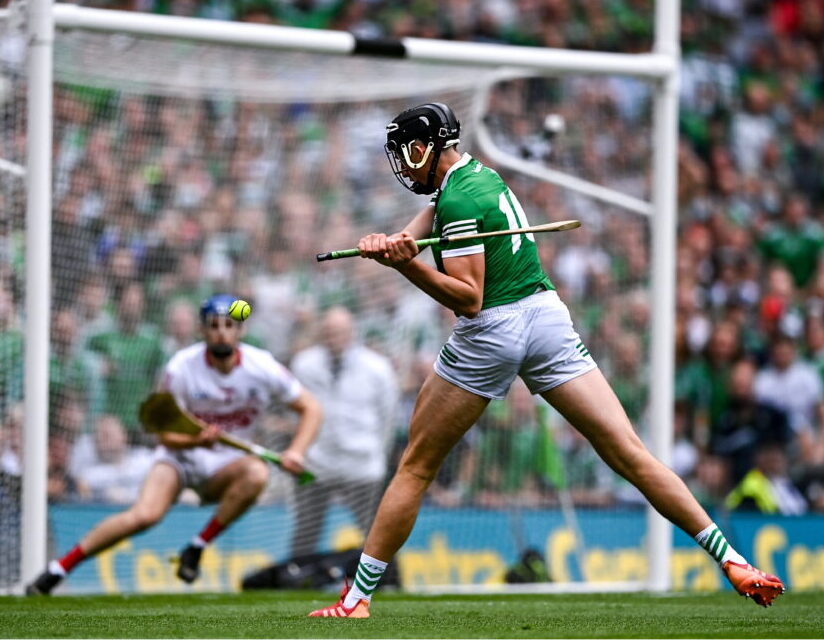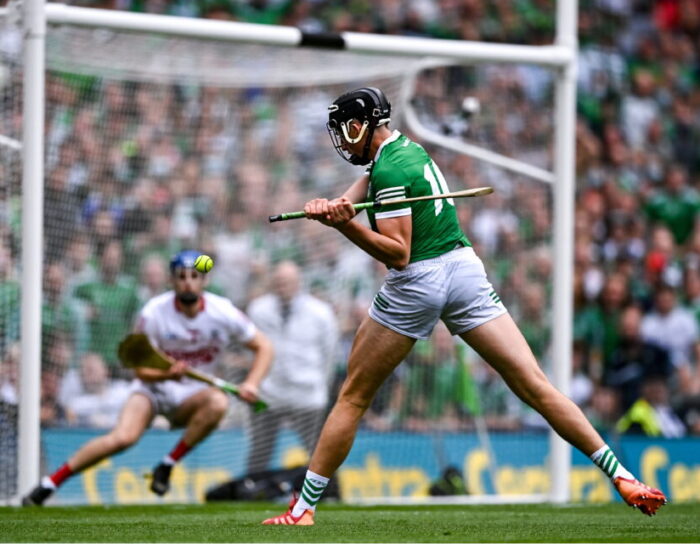 The Rebels again were up to the task and Shane Kingston fired to the net moments later as the game looked like going all the way.
Peter Casey replied with the first of five points in the opening half and quickly doubled on that as Limerick moved 1-5 to 1-2 in front.
Cork reduced the margin to a pair but a mix up in the Cork defence allowed Seamus Flanagan to find Aaron Gillane in an ocean of space as he drove the sliotar past Patrick Collins.
On the quarter hour mark, Casey moved to three for the day as Limerick took a 2-8 to 1-6 lead into the waterbreak.
Seamus Harnedy opened the second quarter scoring but Limerick replied with five in a row, the pick of the bunch coming from Casey.
Cork battled but Limerick were operating on a different planet with Lynch taking his assist tally to 2-6 in the opening half, setting Hegarty loose once more.
Winning a ball he had no right to in front of Mark Coleman whilst being fouled, Lynch handpassed over his shoulder to the unmarked Hegarty who cut inside and fired low into the corner for Limerick's third.
Barry Nash's point moments later made it 3-18 to 1-11, drawing to a close the greatest first half performance of all time.
With the contest as good as over, Limerick failed to reach the heights of the first half after the resumption. Nonetheless, they still continued to pour in scores as Graeme Mulcahy notched on his introduction for the injured Casey.
After being chief playmaker in the first, Lynch took on the role of scoring general as he hit over the first of five second half scores for an overall tally of 0-6.
Their lead was out to 3-26 to 1-16 at the final waterbreak and from here Kiely's men remained content in protecting their goal whilst adding on points whenever they presented themself.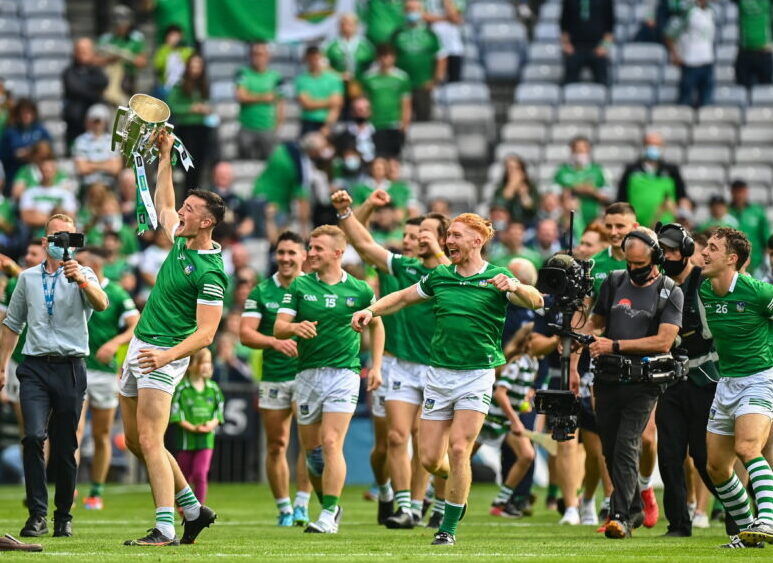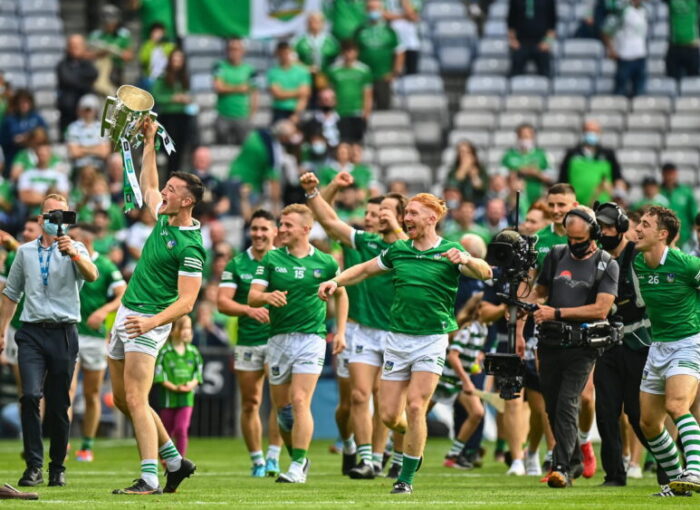 Incredibly, 3-27 of Limerick's total came from play as they gave an exhibition of shooting, although it could have been more with some chances going abegging late on.
But the day belonged to Limerick as Pat Ryan broke the 40 point barrier making Limerick the first side to do so on All-Ireland final day.
Declan Hannon was taken off to a standing ovation five minutes from time as he later became only the second man to ever lift the Liam MacCarthy as captain three times.
An unforgettable performance and one that has to be rewatched to be believed.
Scorers for Limerick : Aaron Gillane 1-6 (0-3f), Gearoid Hegarty 2-2, Cian Lynch 0-6, Peter Casey 0-5, Tom Morrissey 0-3, Declan Hannon, Diarmaid Byrnes (0-1f) 0-2 each, Barry Nash, Darragh O'Donovan, Séamus Flanagan, Graeme Mulcahy, David Reidy, Pat Ryan 0-1 each.
Scorers for Cork : Patrick Horgan 0-12 (0-10f), Seamus Harnedy 0-4, Shane Kingston 1-0, Niall O'Leary, Mark Coleman (0-1f), Luke Meade, Jack O'Connor, Alan Cadogan, Shane Barrett 0-1 each.
Limerick : Nickie Quaid, Sean Finn, Dan Morrissey, Barry Nash. Diarmaid Byrnes, Declan Hannon, Kyle Hayes. William O'Donoghue, Darragh O'Donovan. Gearoid Hegarty, Cian Lynch, Tom Morrissey. Aaron Gillane, Peter Casey, Seamus Flanagan.
Subs : Graeme Mulcahy for Peter Casey (inj) (36) David Reidy for Hegarty (61) Colin Coughlan for Hannon (inj) (65) Barry Murphy for Mulcahy (68) Pat Ryan for Tom Morrissey (69)
Cork : Patrick Collins Niall O'Leary, Robert Downey, Sean O'Donoghue. Tim O'Mahony, Mark Coleman, Eoin Cadogan, Daragh Fitzgibbon, Luke Meade. Conor Cahalane, Seamus Harnedy, Robbie O'Flynn. Jack O'Connor, Patrick Horgan, Shane Kingston.
Subs : Damien Cahalane (St Finbarr's) for Conor Cahalane (half-time) Seán O'Leary-Hayes (Midleton) for O'Leary (47) Alan Cadogan (Douglas) for O'Connor (47) Shane Barrett (Blarney) for Fitzgibbon (47) Niall Cashman (Blackrock) for O'Donoghue (52) Declan Dalton (Fr O'Neill's) for O'Flynn (inj) (55)
Referee: Fergal Horgan (Tipperary)
The post Kiely's Top 10 | #1 | Limerick save best for last with greatest All-Ireland final display of all time appeared first on Sporting Limerick.