THE mother of Limerick champion boxer Kevin Sheehy marked the third anniversary of his murder by vowing to continue her legal fight to keep her son's killer in prison in Ireland.
Tracy Tully was speaking after a stay was put on the transfer of Coventry criminal Logan Jackson to a prison near his family in England pending the outcome of High Court proceedings.
20 year-old Kevin Sheehy, who was tipped to represent Ireland at the 2024 Olympic Games and had no links to crime, died on July 1, 2019, after he was repeatedly struck by a SUV vehicle driven by Jackson, at Hyde Road, Limerick.
Jackson, (31), who denied Mr Sheehy's murder but admitted manslaughter, was jailed for life last December after a jury at the Central Criminal Court unanimously rejected his defence of provocation.
The court heard that Jackson attempted to lead Gardaí  "on a merry dance with a tapestry of self-serving lies".
Mr Sheehy's mother Tracey Tully said she was not informed when Justice Minister Helen McEntee, granted Jackson a transfer from Limerick Prison to a UK jail last March.
Ms Tully has begun proceedings in the High Court in which she is seeking a judicial review of the transfer decision. Lawyers representing Minister McEntee are fully contesting the application, which will be heard on July 15.
Ms Tully claims that if the transfer goes ahead, she will not have a say, nor be able to make submissions to the UK authorities should Jackson apply for parole. She also maintains that it breaches her rights under the 2017 Victim of Crime Act; and that the transfer is unconstitutional and an "abdication of the Irish State's responsibility to determine when a person serving a life sentence may be paroled".
Ms Tully and her family gathered outside Our Lady Queen of Peace Church in Janesboro on Friday to commemorate the third anniversary of her son's death.
Holding her two-year old granddaughter, Kevaeh, who was born a month after her father's death, Ms Tully said her family's lives had been further devastated by the decision to grant Jackson a transfer.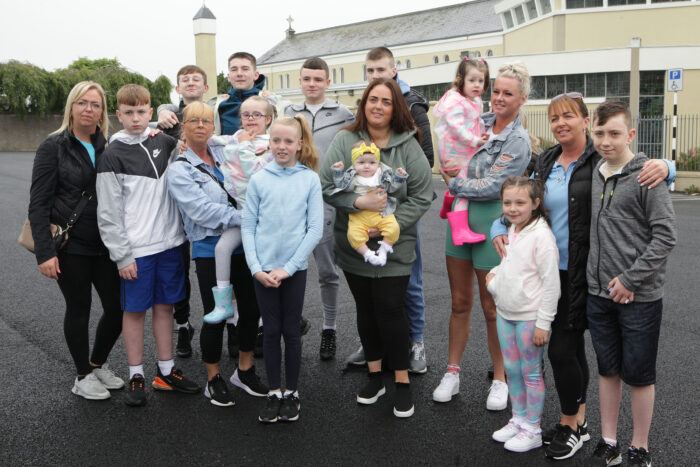 "It's been really really stressful on our mental and physical health, it's very hard to take it, and I feel, despite the conviction, there has been an injustice," she explained.
"It's very important that he stays in jail here because if that man wasn't in our country, I know for sure my son would be training for the 2024 Olympics, and he would be a Daddy to a little beautiful angel girl who has been a gift from God to me."
"It's very testing and very frustrating for me now, the more I think about it, because we weren't considered in all of this."
"I wrote a victim impact statement at the end of the trial so that I could leave Logan Jackson behind me, and I walked out of the court with no regrets. I feel like my victim impact statement was not considered by the Minister."
Despite many days of not being able to get out of bed to face the world since her son's murder, she has found renewed strength and solace in her love for Kevin's daughter, Kevaeh.
The family took a bus trip with Kevaeh and her young cousins to a local pet farm to spend the day "doing things that Kevin loved doing most", spending time together as a family.
"We all wore blue in memory of Kevin and we will all individually go to his grave and have our own private time there, but for today we decided to bring all the kids to a pet farm and I know the little ones will enjoy it."
"We made a big picnic for the kids. It's very old school stuff. I just want to spend the day with my family, it has effected each and every one of our lives."
"My sister gave me a present of chocolate bars for all the children with Kevin's picture on it, and Kevaeh can't believe that there's a picture of her Daddy on the chocolate bar. It's so cute."
"Kevaeh was born on August 2, 2019, almost a month to the day her Daddy died, we speak of him to her so much, and the only consolation is that she feels like she knows him. We will tell her how he was a fine young man who lived a beautiful life."